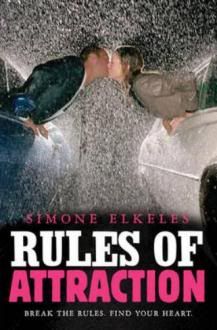 Publisher:
Simon & Schuster
Format:
Paperback
Released:
January 6th, 2011
Grade rating:
B+
/A-
Amazon summary:
Carlos Fuentes isn't happy about leaving Mexico to start the "new" life his older brother, Alex, has planned for him. Carlos liked his freedom; living life on the edge - just like Alex did. Kiara Westford doesn't talk much; instead preferring to shut out the world. And when Carlos bounds into her life she struggles to understand him. Carlos is sure that Kiara thinks she's too good for him, which is just fine because he's not interested anyway, right? But when they finally open up to each other, the connection they feel shocks them both. Can they overcome their fears and realise that sometimes opposites really do attract?
Review:
I first read
Perfect Chemistry
almost 2 years ago, and it pretty much consumed me. When I found out Elkeles was continuing the series with a younger Fuentes brother, I was skeptical. I mean, could she ever replicate the epic romance of Alex and Brittany? The answer is no, not quite, though she gives it a very good go. I think I knew nothing would beat
Perfect Chemistry
, but
Rules of Attraction
is still a worthy sequel and is miles better than most YA romances on the shelves.
Rules of Attraction
follows a similar formula to that of its predecessor, which I was expecting. Think bad boy meets good girl amidst a backdrop of high school and gang life, and you've got it in a nutshell. What makes this series so alluring is the writing, hot hot HOT scenes and those irresistible Fuentes brothers. Honestly, once I started reading, I couldn't stop. I almost took it to the cinema with me, but I didn't think my friend would have been too impressed.
Carlos and Kiara are great characters for this kind of story. Both have their flaws, but both want to better themselves, whether it be by keeping stuttering to a minimum or learning to trust someone. Their relationship starts off slowly, and is encouraged by a convenient living arrangement. I mean really, how often would this happen in real life? And do I care? Nope, not one bit. It's escapist romance of a high level, and it got me hook, line and sinker.
As with
Perfect Chemistry
, the gang-related part of the plot can be a bit on the unbelievable side, but it is what it is. It adds drama and usually means many smooches ensue. For me that's a win-win situation. Oh, and did I mention that my beloved Alex and Brittany feature quite heavily? 'Cos they do. High five to the Mighty Elkeles for that one - she's the master of YA romance, no doubt about it!
While
Rules of Attraction
has a few flaws just like its characters, I am more than willing to overlook all of them. I can't wait to read book 3,
Chain Reaction
, and rejoin the Fuentes boys - I'm almost counting down the days. There are very few authors who can draw me in like Elkeles can, and with love stories as addictive as this, who needs reality?