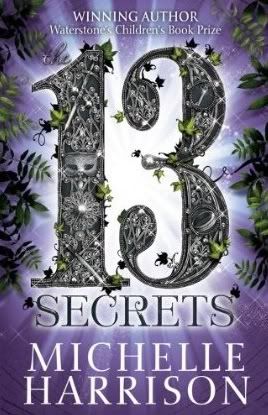 Publisher:
Simon & Schuster
Format:
Paperback
Released:
February 3rd, 2011
Grade rating:
A
Amazon summary:
Red is now living at Elvesden Manor under her real name, Rowan, and trying to put her past behind her. But staying on the straight and narrow isn't as easy as she had hoped... Hounded by fairy messengers who are trying to convince her to participate once more in the changeling trade, Rowan is haunted by dreams of the Hedgewitch's cottage and the chained-up Eldritch, who threatens revenge against her. Her past is about to catch up with her - can Tanya and Fabian prevent it consuming her altogether?
Review:
Guys, I'm finding it hard to put into words how much I love this series. Up until December 2009, I hadn't read any of it, and now look at me: I'm a complete Michelle Harrison fangirl. The
13
series is the perfect mix of fairies, mystery and friendship and, although my usual last-book-in-a-series anxiety reared its ugly head, I needn't have worried. Harrison absolutely delivers with this final instalment, and she goes above and beyond what I was expecting. Honestly, this woman can do no wrong.
Over my year-long wait for
The Thirteen Secrets
(I know, right? Publishers are
mean!)
, I'd had a lot of time to ponder the plot and where things could go from the end of
The Thirteen Curses
. I had no idea what would happen, and to say I was surprised is an understatement. I was sat in bed, book in hand, audibly saying things like "Yes!", "Really?!" and "No way!". That's how much I wasn't expecting what went down at Elvesden Manor, and wow did it get me excited. If you read it, you'll know what I mean!
It was great to see familiar faces reappear in
The Thirteen Secrets
, not to mention a whole host of new people that I fell in love with. Harrison was never afraid to put her characters in realistic situations, not all of them good or necessarily what I wanted, but realistic all the same. I fist-punched the air when Brunswick the goblin appeared in the woods, and when the tea caddy brownie used his walking stick for something other then walking. Oh, and when Gredin, Raven and the Mizhog arrived on the scene? Yep, I was in faery heaven. These are all characters I've grown to love over this series, and I'm really glad they weren't left out of this somewhat epic battle between good and evil. They're as much a part of the story as Tanya and Rowan, and Harrison does them all justice.
The Thirteen Secrets
is the darkest book yet, and has matured just like I expect its target audience has. There's violence and scary situations; gone are the light moments of
The Thirteen Treasures
, and instead we have a family that is truly in danger. It's not a matter of ending up in the faery courts now, it's all about life and death. That's not a direction I ever thought this series would take, but it works. After all, the fey world isn't always one of sunshine and rainbows, and Harrison depicts this through the way she spins her final story.
Once again I've been deliberately sparse when it comes to information about the plot, because I want you to be surprised like I was. There's nothing better than going into a book anticipating one thing and getting another, and it makes the reading experience all the better for it. I will say that this series is up there with my favourites -
The Twilight Saga
,
Harry Potter
and
The Chronicles of Narnia
- and I think a reread is imminent. If you're looking for brilliantly written, imaginitive British fiction, then you need look no further. I guarantee you will find something to love with this series, whether it be the setting, the endearing human characters or the fascinating fey creatures. Cheers to you, Michelle Harrison, and thank you for such a wonderful end to a wonderful series!