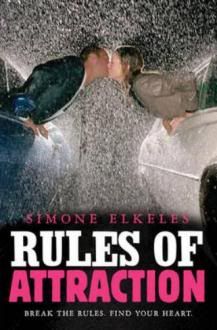 Okay, hands up if you've seen the above
Rules of Attraction
trailer before. It's good, right? And how hot are the guys playing Alex and Carlos?! *Sigh* Those Fuentes brothers...
I love this trailer for many reasons. Here are 8 of them:
1. It looks exactly like a real teen movie trailer. There's hotties, high school, a low-voiced dude narrating, and music that matches the story. What more could you ask for?
2. Carlos, Carlos, Carlos. I wish he'd have come to my school and ended up living at my house. Just sayin'.
2. Kiara looks just like I imagined her, like a normal 17-year-old girl. Check out what she's wearing - how spot-on is that?
3. Madison. HA! Yep, they got her right too. Blonde and barbie doll-esque... well done, trailer casting peeps.
4. Alex takes his shirt off. 'Nuff said.
5. The chemistry between the actors playing Kiara and Carlos is there, which is a win in my book, cos the book is chock full of it. More often than not, I find that actors in romance films don't gel as well as they should. If you want proof, watch any of the
Twilight
movies. AWKWARD. (Sorry RPattz, I still love you).
6. "Take my advice and stay away. She bites". LOL. How good is this line delivery?!
7. There's some gang action towards the end. See, even boys will enjoy this book. Maybe...
8. Kissing. Hell YEA. (No teen romance is complete without copious amounts of this).
So, to conclude,
Perfect Chemistry
and
Rules of Attraction
should hit the big screen and, in the meantime, everyone should read the books and fall madly in love with the Fuentes boys.
I have to ask: what do you guys think of this trailer? Would it make you read the book? Are you currently scurrying off to your nearest bookshop to buy it? Let me know!