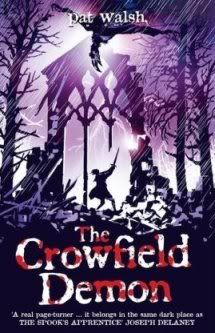 Waiting on Wednesday idea from Jill at Breaking the Spine.
-----
The Crowfield Demon
by Pat Walsh
* Published by: Chicken House (UK)
* Format: Paperback (UK)
* Release Date:
April 7th, 2011 (UK)
* On Amazon:

here





Summary from author's website:
In this second Crowfield adventure, it is March 1348. Evil lurks in Crowfield Abbey and the building is starting to collapse. Fay creatures have fled the surrounding forest in terror.
Repairs begin and William is given the job of lifting floor tiles in a haunted side chapel. There he finds a box from an earlier pagan time containing a small wooden bowl, covered with strange warnings and symbols.
The bowl is cursed and a hideous demon is unleashed within the Abbey's walls, that will wreak unspeakable havoc. Can Will and his friends summon help in time or is it the end of Crowfield forever?
I really enjoyed
The Crowfield Curse
, the first book in this series, and I can't wait to see what happens next. It was different and unusual, with some brilliant fay characters (the hob!). I see this one has a great cover again too.. well done Chicken House!