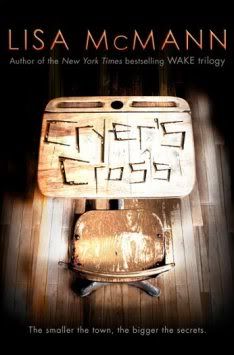 Publisher:
Simon Pulse
Format:
Hardcover
Released:
February 8th, 2011
Grade rating:
A-
Amazon summary:
The small town of Cryer's Cross is rocked by tragedy when an unassuming freshman disappears without a trace. Kendall Fletcher wasn't that friendly with the missing girl, but the angst wreaks havoc on her OCD-addled brain. When a second student goes missing—someone close to Kendall's heart—the community is in an uproar. When Kendall starts hearing the voices of the missing, calling out to her and pleading for help, she fears she's losing her grip on reality. Something's not right in Cryer's Cross—and Kendall's about to find out just how far the townspeople will go to keep their secrets buried.
Review:
I'm a big fan of Lisa McMann and the
Wake
trilogy. However, I'll gladly admit to strongly disliking
Gone
, the final book in that series. Because of that, I was a bit worried what I'd think of
Cryer's Cross
, but my excitement won out and I decided to give it a chance. What an idiot I would have been if I hadn't!
Cryer's Cross
is a creepy, old-school horror story set in a quiet hick town, where something evil is lurking. Kendall fins herself smack in the middle of it all, and when students start going missing, she realises things aren't all they seem in the sleepy town of Cryer's Cross. Think atmospheric scenes and a drawn-out mystery, and you pretty much have
Cryer's Cross
in a nutshell. As my friend mentioned last year, it's reminiscent of early Stephen King novels, which is obviously awesome!
Main characters Kendall and Jacian are about as far removed from Janie and Cabel as you could get, and starting a new series has been no problem for Lisa McMann. I immediately loved both Kendall and Jacian; I related to her OCD and sympathised with his unwanted move to Cryer's Cross. They worked well together as a team, and I liked how their friendship progressed - none of it was easy, but they did it.
McMann kept me in the dark for most of the book, and I guessed nothing. I had an inkling about what was going on, but I didn't quite tie the clues together, and was pleasantly surprised at the end. As always, McMann writes in a unique style, using the third person present tense to her full advantage. The plot moves speedily, description is kept to the essentials, and characterisation is allowed to progress realistically. I don't think I can fault
Cryer's Cross
, so I'm just going to leave it there. Read it!