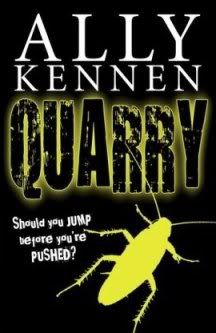 Publisher:
Scholastic
Format:
Paperback
Released:
February 7th, 2011
Grade rating:
B
Amazon summary:
When he receives anonymous texts challenging him to bizarre dares, Scrappy's sure one of his mates is having a laugh. Anyway, his confusing teenage life just got more exciting. But the unknow sender cannot be a friend - and the challenges become increasingly dangerous. Someone knows all the secrets of Scrappy's troubled family - and is luring him into a deadly trap...
Review:
YA thriller isn't a genre I've read a lot of, as there just doesn't seem to be many out there. I like thrillers, though - suspense and scares are high on my list of 'likes', and I'm happy to have found a new author with a backlist of titles for me to wade through.
Quarry
is Ally Kennen's latest offering - as well as the first of her books I've read - and I liked it.
I didn't know what to expect when I started
Quarry
. What I ended up getting was a fast-paced, chilling story of dares and boundaries, with an underlying message of just how far would you go? Main character Scrappy lives with his father and sister, along with his slightly batty grandad who thinks bad people called 'Geebos' exist and are out to get him. Grandad Ted provided much of the book's humour, and he was my favourite character. I liked his impulsiveness and his ability to ignore those around him - getting old and finding your mind deteriorating isn't by any means a fun thing to go through, but the way Ted deals with it is fairly light and easy to read.
Although I sympathised with Scrappy and his situation, I never became as attached to him as I would have liked. He was a bit too much of a mystery for me to completely get inside his head, and I also had some trouble believing he wouldn't have involved an adult when strange, dangerous text messages started appearing on his phone. I'd be too scared to not talk to someone about it, though maybe that's just me!
Quarry
is tense and genuinely chilling, with a conclusion that never even occurred to me. Honestly, I think I've been born without the gene to work things out. It never, ever happens! In this case, at least I was as gobsmacked as Scrappy was, and I experienced the shock at the same time he did. I'm interested in reading more of Ally Kennen's books, as they appeal to my jumpy, thriller-loving side. A refreshing read with a sinister twist,
Quarry
isn't for those of a nervous disposition!
-----

Scholastic have very kindly offered to give away one (1) set of signed Ally Kennen books, including:
Beast
,
Bedlam
,
Berserk
,
Sparks
and
Quarry
. To be in with a chance of winning, just fill in the form below!
Rules & info:
Open to

UK residents only

!

End date: February 14th, 2011.

One entry per person

.

You do NOT have to follow my blog to enter.
Book will be sent out by the publisher.