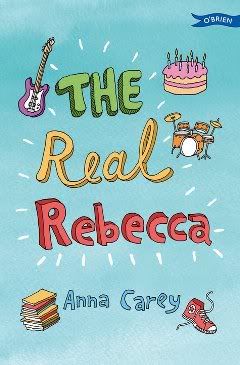 Publisher:
O'Brien Press
Format:
Paperback
Released:
February 1st, 2011
Grade rating:
B/B+
Amazon summary:
My name is Rebecca Rafferty, and my mother has ruined my life. Again. I didn't mind her writing boring books for grown-ups. But now she's written one about an awful girl my age and everyone thinks it's me! Including the boy who delivers our newspapers, aka Paperboy, aka the most gorgeous boy in the whole world. Oh, the shame! And if that wasn't awful enough, the biggest pain in my class wants to use my 'fame' to get herself on the reality show My Big Birthday Bash. I've just got to show everyone the REAL Rebecca. But how?
Review:
When it comes to YA books for girls, I'm a big fan of the diary-entry style perfected by such authors as Louise Rennison and Liz Rettig. They're always fun and easy to read, and often very, very funny. I hadn't even heard of The Real Rebecca before it arrived in my post box, but I'm glad I had the opportunity to read it. While not quite as funny as books by the aformentioned authors, it definitely had a certain spark to it - I read it in one sitting!
Rebecca isn't your typical 14-year-old girl. She attends an all-girls school in Ireland, doesn't know many boys and has a popular author for a mother. This causes many embarrassing moments, especially when her mum writes a teen book about a teenage girl. Everyone automatically assumes it's based on Rebecca herself, and what follows is a painful amount of media attention and school teasing. Along with best friends Cass and Alice, Rebecca takes it all in her stride. The way she deals with all her embarrassing teen moments reminded me of one of my literary heroines, Georgia Nicolson. No-one handled things quite like her!
The Real Rebecca
deals with all sorts of teenage problems: boys and the age-old does-he-like-me? conundrum, ridiculous family wars and the longing to fit in among school peers. Carey tackles each subject with humour and realism, not to mention deadpan one-liners that will have you laughing out loud. Teen girls will no doubt see themselves in Rebecca, especially when it comes to talking to attractive paper boys who appear on their doorstep every Friday night. If you're stuck for what to do in that situation, this book just might help you!
Judging by the ending, I'm guessing that
The Real Rebecca
is the start of a new series, which I'm glad about. I love books like this, and they're always a welcome break from the more serious YA I read. If you're looking for an enjoyable, angst-ridden account of a 14-year-old's life, I think you've found the right book. It's well worth a read.