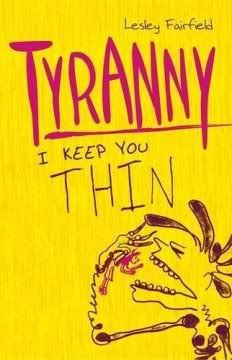 Publisher:
Walker Books
Format:
Paperback
Released:
February 7th, 2011
Grade rating:
A-
Amazon summary:
"Do I know you?" "You've always known me, silly... I'm Tyranny, your other self. I keep you thin." One day, horrified by her reflection in the mirror, Anna makes a life-changing decision – that food is the enemy. Her obsession with being thin and beautiful will now dominate her every waking and sleeping hour. Should she falter or show any signs of weakness, Tyranny, her inner voice of "reason" will be only too willing to push her back into line. Years later, when Anna finally finds the strength to defeat her personal demon, it will be a matter of life and death.
Review:
I've never suffered from any eating disorders myself, but I feel very strongly about them and the celebrity culture that provokes them. I've read quite a lot of fiction based around anorexia and bulimia, though never one in graphic novel format. If I'm honest, I wasn't entirely sure if or how
Tyranny
would work, but somehow it did. Being able to visually see the decline in health and appearance on the page turned out to be more heartbreaking than its realistic descriptions, and I wasn't at all surprised to learn of author Lesley Fairfield's 30-year-battle with eating disorders. Only someone who has been in that situation could write with the honestly that she does, and I think she's done a really brave thing by telling this story.
Tyranny
centres around Anna, a girl just starting to hit puberty and grow into her new womanly shape. Rather than wait for her body to finish changing at its own pace, she quickly becomes obsessed with being as thin as possible. Her parents notice but don't really push the issue, which in itself is a sad state of affairs. Rather than get the help she needs early on, Anna ends up living on her own and giving in to Tyranny - her other, less sensible, half. Through dieting, binge eating, purging and starving herself, she's soon down to 85 pounds and nothing more than a shadow.
Lesley Fairfield shows readers the effects eating disorders have on people, both medically and visually. Anna literally withers away; she becomes sunken and unrecognisable, she hurts everywhere, her heart thuds in her ears, but still she can't make herself touch food. It's an awful, shocking existence, and it's one that I witnessed happen to one of my friends in high school. Once someone has that mindset, it takes a lot to break it, and sometimes it can be too late. It's a horrible, horrible illness, but it's one that can be beaten.
I loved this book, and I'm so glad it's been published. If every school and college invested in a single copy, there's a chance it could save a life or stop someone ever endangering their life in the first place. Knowing the real effects of eating disorders, and also knowing the help available, could be the answer to problems teenagers may not even know they have. Stark and courageous,
Tyranny
is a graphic novel to be read by all. I just hope it reaches those who need it most.