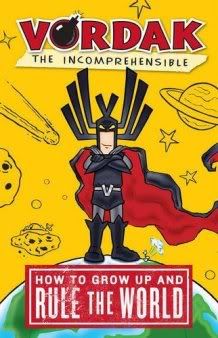 Publisher:
Egmont
Format:
Paperback
Released:
February 7th, 2011
Grade rating:
B-
Amazon summary:
Vordak the Incomprehensible has one aim in life - to rule the world. He's big, he's bad and he's brash. Writing his first published title, Vordak shows us how to grow into a villain of epic proportions. Whether it is planning strategies to take over the government, finding a new secret lair or choosing a suitably evil costume, Vordak will be there with plenty of hints and tips. With Vordak's help, you too can become an evil mastermind and rule the world.
Review:
Boys everywhere will find a new hero in the form of Vordak the Incomprehensible. Gone are the goody-two-shoes superheroes we're all used to, and in their place is a self-centred megalomaniac who makes no secret of his plan for world domination. Seriously, Vordak has no boundaries. This guy is EVIL. MUAHAHAHAHAHA!
Saying that,
Vordak the Incomprehensible
never quite hooked me. It was funny, yes, but not overly compelling. I didn't connect with the style of writing, though I did really enjoy how the story was presented. It's packed with lists and diagrams, and cool illustrations mark almost every page. Visually it's absolutely brilliant, and I can't fault its fun, easy to read format.
Vordak himself is basically a lunatic. He's an over the top nutter, but that's what makes him so endearing. He's honest to the point of disbelief, and he doesn't give two hoots about humanity. As far as he's concerned, humans are just pesky things that get in the way of his quest to rule the world and, if he could, I'm sure he'd stamp on the whole population. He's a dastardly dude, let me tell you!
While
Vordak the Incomprehensible
wasn't quite as good as I thought it would be and I'm now of the belief that Vordak is an acquired taste, I have no doubt that it will make its mark on the world of children's fiction. Readers will be enchanted by the pure evilness and hilarity that ensues, and I'm sure maniacal laughs will be heard through many a bookshop.