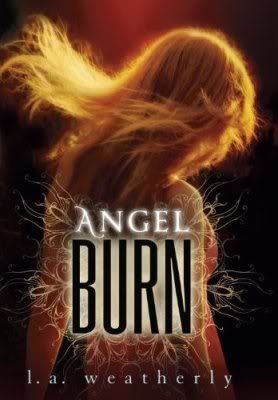 US // UK
In the interest of being completely honest, I should admit that I have a big problem with the UK cover of
Angel
, and that's the model. I can't stand her. I think she looks creepy and all wrong for the book, and the chosen image spoils what could have been a mind-blowing cover. The background design and colours are spot-on, the strapline isn't out of place and the title font is brilliant. If a different image had been used, I have no doubt that this would have been one of my favourite covers of 2010! Instead, every time I see this, I see a horrible demon girl who will kill me in my sleep. *shudder*
The US edition, aside from having a different title, has a better cover for me. It's mysterious and pretty, and also reminds me of
Maximum Ride: The Angel Experiment
. As soon as I saw it I thought of James Patterson's book, which isn't as daft as it sounds if you've read it, I promise. Is it just me with that comparison?
I've already pre-ordered myself a US copy of
Angel Burn
, because it's also hardback. *grin* I much prefer hardbacks, especially if they have a lovely cover to boot. How about you? Which version of this book grabs you more?