At the beginning of March, I was very lucky to be invited to meet and interview UK debut author Annabel Pitcher. We went to a posh hotel and talked far too much, so much so that her lovely publicist Nina had to call Annabel a later car. Ha! I am quite happy to take all the blame for that. ;)
Annabel's book,
My Sister Lives on the Mantelpiece
, is a brilliant piece of literature, and I'm so glad I got to talk to her about it. Thanks for all your time, Annabel - and good luck with your next book!
----------
Wondrous Reads: For anyone who doesn't already know, what is

My Sister Lives on the Mantelpiece

about?
Annabel Pitcher:
My Sister Lives on the Mantelpiece
is narrated by 10-year-old Jamie Matthews, and it's about the fact that he lost his sister 5 years ago in a terrorist attack. The novel starts 5 years later and Jamie doesn't remember his sister at all, and that causes a lot of tension because his dad's desperate not to forget her but Jamie doesn't remember. So it explores that and also there are themes of racism, terrorism and alcoholism in there as well.
WR: There's definitely a lot in there! Did you ever have any worries about the terrorism aspect being seen as too controversial?
AP:
I didn't, no, just because I think it's really important to talk about. I'd worked in schools and I know that schools are quite brave at tackling issues like that, so I didn't ever worry that it would be banned or that I was writing about something that children wouldn't be allowed to read at school or at home. Sometimes I was worried that it was a bit dark and a bit grim, but that's why Sunya comes into it. She lightens the mood.
I think there's a lot of humour in there as well - I didn't want it to be seen as a depressing book, and I don't think it is. It's a book about hope and courage in the face of adversity, rather than a boy whose family has been torn apart by a horrific event. It's about how they find a way of coping and living.
WR:
What made you write it? I'm guessing you haven't experienced terrorism on a personal level...
AP:
I haven't, no. I was inspired by a film about 9/11 that I watched while I was travelling in Ecuador. I wrote the whole book in notepads while I was in the hostel at night. It wasn't safe to go out at night so we stayed in. We were bored and watched the film about 9/11, which turned out to be the best thing I ever did. I watched that and the whole idea just appeared.
WR:
So how did you go from your notepads to actually getting it published?
AP:
I got it published by what seems to be a fluke, though I hope it wasn't just that. I wrote it in travelling notepads, and I came home and typed it up which took absolutely ages. I edited it which also took forever, and then sent off a covering letter, synopsis and sample of the book to agents. The first agent rejected it because it was "commercially disastrous" - she loved the words and story but she thought terrorism was just too controversial and wouldn't sell. That was the only time I worried and thought this isn't something that should be dealt with in a children's book. Then, thankfully, another agent read it, liked it and thought it would be successful. She offered to represent me and it all took off from there.
WR:
How long do you reckon it took you to write it in your notebooks in Ecuador?
AP:
It probably took about 9 months to a year, but I wasn't working on it full time. I tried to write a bit every day, but it was dependent on what we were doing. Then I had to come home, edit it and put together a proposal which took another few months.
WR:
Back to the subject of terrorism and children reading it, do you think it's important that they know what's happening and what's affecting the world?
AP:
I think it's really important, particularly because we live in such a paranoid society where people are worried about their safety. The war on terrorism is like fighting an unknown enemy, and the racism that's stemmed from it is a really big deal and very real. I think it's important that kids are aware of that, and aware of how wrong that kind of prejudice is.
WR:
I agree! So all the time you were writing it, did you absolutely 100% know it was a children's book?
AP:
Yes, definitely. I never wanted to be an adult novelist - I love YA stuff, I read it constantly myself. I should have been reading classics for my degree and I was reading
Harry Potter
instead. I'm so excited by it and I think it's just brilliant. It was really surprising to me when people only wanted to publish it was an adult book and didn't see the children's potential at all. That was surprising because I'd written it as a children's book, but it's great, and I think all books should be read by everyone.
WR:
I think it's a really good book for children and adults. It definitely has crossover appeal. We were talking earlier about the humour in it, and I just have to say that I think Jamie is really funny.
AP:
He is! It's northern humour, though.
WR:
It is! Kind of dark...
AP:
Very dark. My sense of humour is really dark. I laugh at things that I shouldn't find funny, and I like inappropriate jokes. So I just love when people say what they're thinking and have no filter, which is what Jamie does.
WR:
That's why I loved him so much. He made me laugh.
AP:
That's good, because the whole point of the book wasn't about how awful terrorism is; we know that. What I wanted to do was make it really raw and funny. Jamie allowed me to do that, and I hope it's uplifting and hopeful.
WR:
Jamie's relationship with Sunya is really innocent isn't it, because he doesn't get why he shouldn't be friends with her. Do you think your readers will take something away from that and maybe change their own opinion of people?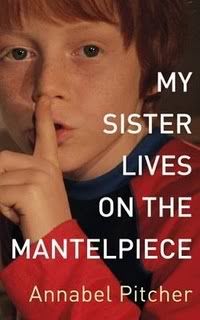 AP:
I definitely didn't do it to change opinions, but I wanted to make the point that people have got to be judged on their own merits. I think Sunya is so fantastic and likeable, and I worked hard to make her engaging and not too stereotypical. That's the message behind the book. I hope people will come away thinking it's a nice story. I wanted to make people laugh and cry, and get that amazing feeling after getting to know someone. I hope Jamie did that.
WR:
It's a great story, that's for sure. It made me laugh and cry. At the same time! It must have completely changed your life - are you enjoying being an author so far?
AP:
I am, but it's such a huge difference. I've gone from a manic classroom to being master of my own time. I love doing something I'm so passionate about.
WR:
And have you been surprised by the reaction? Did you ever think your book would get this kind of nationwide press?
AP:
No, not at all. It was my absolute best effort, so I thought maybe I'd be lucky and see it in a shop in Huddersfield. I didn't think it was so bad it'd never get published, but I never in a million years thought there'd be a bidding auction in America for it, or that I'd see it on a bookshelf in London. I go to bed smiling.
WR:
So it's been sold to America?
AP:
It has, to the people who publish
Twilight
- Little, Brown!
WR:
Okay, if you get to meet Stephenie Meyer, I'll never forgive you.
AP:
I'll make sure you're the first to know!
WR:
Thank you! Have you had to re-edit it for an American audience?
AP:
I've had to change it a bit, so Jamie is slightly older. It was quite a lot of work, so hopefully it will find its rightful place over there.
WR:
I'm sure it will. I'm interested to see what it's like with Jamie being older. Ooh, and it'll have a new cover! What do you think of our UK one?
AP:
I really love it. It took forever to get right, but I really wanted something related to the trailer because it's so good. To me it made no sense to have an amazing trailer and a book cover that didn't relate.
WR:
I love the trailer! It's my favourite book trailer actually. Anyway, we'd better shut up now, but before we do: what are you writing next?
AP:
I'm writing a book called
Ketchup Clouds
, which is almost finished. It's narrated by an older character - a 15-year-old girl, so it's true YA. It's quite dark and gritty but with some humour in there as well.
----------
Related links: