Paul Crilley is the author of
The Invisible Order: Rise of The Darklings
, which is a fey story set in Victorian England. I absolutely loved it, so do check it out if you haven't!
----------
Where did the initial idea for

Rise of the Darklings

come from?
I've always had a fascination for Victorian England and back in 2004 was busy reading up on the period, making vague notes for a couple of ideas I had. (One of them was a steampunk/Teslapunk YA story which is currently out to publishers, and the other was something combining Victorian England and faeries.)
That was as far as I had progressed with any kind of plot. Then I got an email from SF writers Julie Czerneda and Jana Picolo, asking if I would like to contribute a story to Under Cover of Darkness, an anthology they were putting together about secret societies. Of course I said yes, and spent the next few days coming up with various terrible ideas before realizing I already had something with my Victorian faeries. So I played around with the theme and came up with The Invisible Order, a secret society of scientists and magicians that worked to stop the creatures of Faerie from wiping out humankind.
After the story was accepted I looked at all the notes I'd made while writing it and realized I had been planning something bigger without really being aware of it. The story just cried out to be expanded. So I cleared off the whiteboard and started jotting down ideas about how I could expand the initial story into something larger. Out of that came
Rise of the Darklings
.
What kind of research (if any) did the writing of this book entail? Did you already know a lot about Victorian London?
There was a lot of research involved, but it was enjoyable research. I got my hands on every book about the time period that I could. Henry Mayhew's '
London Labor and the London Poor
' and Liza Picard's books were particularly helpful.
I love your faerie characters, especially Corrigan and Mr Pemberton. Do you have a favourite?
Hmm. I think perhaps Corrigan, because I enjoy writing him so much. Having said that the gnome Mr Pemberton was quite a surprise, one of those characters that appears on the day and grabs hold of the imagination. (The same goes for the Landed Gentry, the society of gnomes
he inhabits that mimics the fashions and manners of polite London society. They weren't in my notes. Just one of those amazing days when you give thanks to the muse. Pemberton and his Landed Gentry will be playing a much larger part in book 3.)
Do you have any insider info as to whether

Rise of the Darklings

will be published in the UK, and is the Invisible Order series a planned trilogy?
Alas, no bites from UK publishers. It is planned as a trilogy yes, but I do have ideas to take the larger story further if I ever wanted to.
If you were given the opportunity to live in your book, who could you see yourself being? A piskie, perhaps?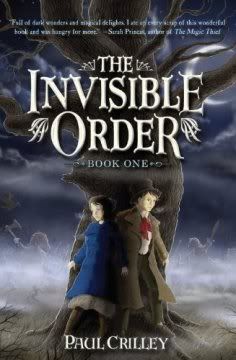 Tough one. Probably a piskie. But a piskie spy, like Corrigan used to be for the Cornwall Spinster Queen. I have a few notes of his early travels to Ireland and Europe as her agent, navigating the ins and outs of all the different fey courts. He'd be kind of a fey James Bond, but a lot more irritable and less successful with the ladies.
Please can you tell us anything about this year's sequel,
The Fire King
? (Anything at all... I'm desperate for some info!)
Sure thing. Here you go.
With humankind threatened, orphans Emily and William Snow, and their friends—the pickpocket Spring-Heeled Jack and the wisecracking Corrigan—find themselves two hundred years in the past, trapped in the London of 1666. Desperately in need of help, they go in search of Christopher Wren, head of the Invisible Order. But Wren's never even heard of the Order, and has no interest in their story.
Stranded, the four cannot even agree on their next move. But they'll have to decide quickly, because their enemies are on the move and the Fire King is ready to consume London, and burn it to the ground.
Set against the Great Fire of London, The Invisible Order, Book Two:
The Fire King
picks up right where IndieBound pick
Rise of the Darklings
left off, weaving history and legend in an exciting, heart-pounding story.
----------
Yay, thanks Paul! I can't wait to read
The Fire King
. Corrigan as a kind of James Bond character sounds hilarious - I can just imagine that! The sequel is published on September 17th 2011, I believe, by EgmontUSA.
~

Related links: