In My Mailbox idea from Kristi @
The Story Siren
, and all links take you to Amazon. Click images for a bigger picture!
This week was brilliant 'cos I
met many cool people
and went book shopping in London. I love you Foyles! I bought great books, all of which I'm very excited to read. Same for the ones I received for review - all sound great!
Here are this week's new books: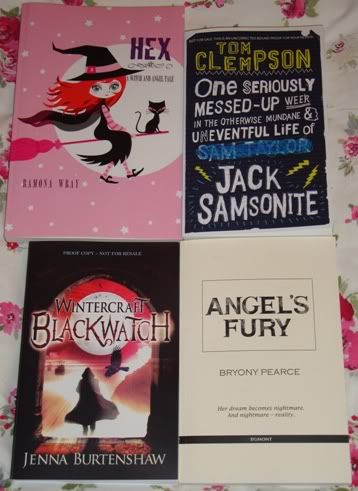 For review:
I don't usually accept self-published books for review, but I've heard good things about this one. Thanks, Ramona!
Does this book have the longest title ever?! I think it does. It's been called 'Adrian Mole meets The Inbetweeners', so I'm sure I'll love it.
I liked the first book in this series, and I'm looking forward to what happens next. Also my review is quoted on the back of this proof which made my Thursday a happy day. Pic below.
Another UK debut novel coming later in the year. I'm really looking forward to reading this one, and the
proof is signed
! How cool is that?!
~
Bought:
signed edition
. Yay!
Infinite Days
, but I bought this because I'm quoted in it (!), and that always makes me very very excited. It arrived at work and I was just flicking through it when I saw it. :D Also, this new paperback cover is lovely!