Orion Children's Books have put together a great UK blog tour for Liz Kessler's new book,
A Year Without Autumn
, which is published on April 7th. Here's the full schedule: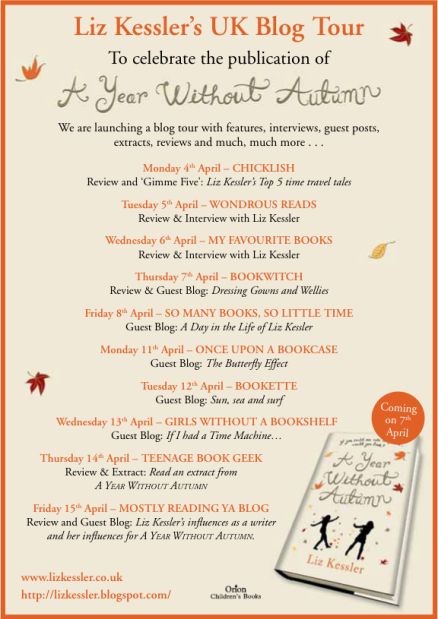 ~

This week has been an exciting week for book deals, including debuts, new series and a first foray into the world of YA. Read on to find out why the next few years are gonna rock!
Gail Carriger, aka the Voice of Awesome, has finally announced news of her first YA series. It will be set in the same world as the Alexia Tarabotti adult series, only 25 years earlier. Here's what Gail said on
her Livejournal
:
I am delighted to announce that Secret Project F is . . . a four book young adult series! (I know I know a fashionable Floote playing the flute would be so much fun.)

The Finishing School Series is set in the same world as The Parasol Protectorate series, only 25 years earlier, and features a finishing academy located in a giant caterpillar-like dirigible floating over Dartmoor in which young ladies are taught to . . . finish . . . everything . . . and everyone . . . as needed. There will be steampunk etiquette! There will be well-dressed espionage! There will be Victorian fake food. There will be flying mechanical sausage dogs named Bumbersnoot. I am excited. The first book will come out in 2012. And I am writing it . . . next.
I for one can't wait. If you haven't yet read anything by this woman, do so immediately!
~

By now you've all heard about Lenore from
Presenting Lenore
's book and movie deal for her dystopian debut novel
Level Two
, right? If you haven't, click
here
to find out what I'm talking about. Then go and congratulate her, 'cos this is AMAZING news!
~

Another of my favourite ladies, who goes by the name of Sarah Rees Brennan, has also just announced a new book deal. YAYAYAYAY!!
Author of the Demon's Lexicon Series Sarah Rees Brennan's YA gothic romance trilogy beginning with LISTEN FOR A WHISPER, about a budding journalist who investigates when she realizes the town she has lived in all her life is hiding a multitude of secrets and a murderer, and the truth may lie with the ruling family who have just returned to the manor on the hill and in the whispers she hears in her head from a boy who may not be imaginary after all.
Sarah can give you more info
here at her Livejournal
. Go forth and read, YA lovers!