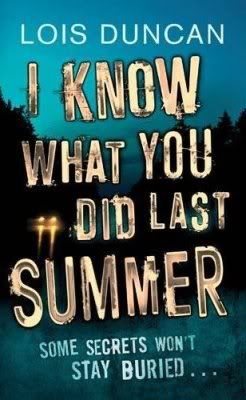 Publisher:
Atom
Format:
Paperback
Released:
March 3rd, 2011
Grade rating:
B-
Amazon summary:
It was only an accident but it would change their lives forever. Last summer, four terrified friends made a desperate pact to conceal a shocking secret. But now, someone has learned the truth, and the horror is starting again. There is an unknown avenger out there who is stalking them in a deadly game. Will he stop at terror--or is he out for revenge? This summer, four friends are going to learn that some secrets just won't stay buried.
Review:
I don't know about you guys, but when I think of
I Know What You Did Last Summer
I immediately think of Sarah Michelle Gellar (my hero) and Freddie Prinze Jr in one of the best 90s slasher films produced. I think hook man, murder, and thrills and chills. I've never once thought of reading the book, which is a shame as it's actually quite good. Its age always put me off, seeing as it was first published in the 70s; bad I know, and I apologise. I need to read older books - it's a work in progress!
I Know What You Did Last Summer
the book is a clever thriller, creepy in parts and not half as gory as the film of the same name. In fact, the two share very little in the way of similarities, aside from a general plotline and character names. I was actually really surprised by how different the book is, though I did enjoy it. It wasn't quite as scary as I thought it would be and I wasn't on tenterhooks while reading, though I did get a strong feeling of unease as Julie and Co. unraveled the sinister mystery.
This edition has been revised for a modern audience but, if I'm honest, that's not the impression I got. It still seemed quite old-fashioned, even though references to cell phones and scanners had been dropped into the text. For me they seemed out of place, but I can see why readers of 2011 will benefit from a more modern take on technology. It made the whole thing more believable somehow, which added to the all important realism factor.
I'd be interested in reading Lois Duncan's other books that are getting a re-release this month, as YA thrillers seem to be getting more attention these days. They're a refreshing departure from paranormal romance and dystopian futures, and I hope we'll see a lot more over the next couple of years. There's nothing like scaring yourself silly while you're reading in the house on your own. Oh, wait...