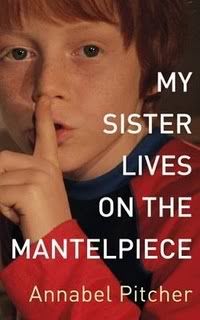 Publisher:
Orion
Format:
Hardcover
Released:
March 1st, 2011
Grade rating:
A
Amazon summary:
Ten-year-old Jamie Matthews has just moved to the Lake District with his Dad and his teenage sister, Jasmine for a 'Fresh New Start'. Five years ago his sister's twin, Rose, was blown up by a terrorist bomb. His parents are wrecked by their grief, Jasmine turns to piercing, pink hair and stops eating. The family falls apart. But Jamie hasn't cried in all that time. To him Rose is just a distant memory. Jamie is far more interested in his cat, Roger, his birthday Spiderman T-shirt, and in keeping his new friend Sunya a secret from his dad. And in his deep longing and unshakeable belief that his Mum will come back to the family she walked out on months ago. When he sees a TV advert for a talent show, he feels certain that this will change everything and bring them all back together once and for all.
Review:
My Sister Lives on the Mantelpiece
is one of the best debut novels to come out of England for a long time. In fact, it's so well written you wouldn't think it was Annabel Pitcher's first book. She's extremely accomplished in her writing and storytelling, and she's managed to make every character real and three-dimensional. There wasn't a single instance where I doubted that these characters could be everyday, normal people passing you on a street, or sitting three rows back from you in a classroom. When you read a book and that happens, you know you've found something special.
Before I started reading
My Sister Lives on the Mantelpiece
, I wondered how the subject of terrorism would be tackled. I didn't know if it was too controversial a topic for a children's book, and I didn't know how commercially well-received it would be. Pitcher deals with terrorism, in this case Jamie's sister Rose's death five years ago, in a beautiful, sensitive way. She never makes Jamie take sides or unduly blame anyone, rather it's just something that happened and a tragedy that can never be taken back. It actually made me think of how we as a society look at terrorism and the people involved, which isn't something I spent a lot of time thinking about before. I can only imagine how well this book will go down in schools, as it shows that diversity isn't something to fear, but something to embrace and accept.
Jamie, out ten-year-old narrator, had the ability to make me laugh and cry simultaneously. He was only five when Rose was blown up in a terrorist attack, and half of her is still sitting on the family mantelpiece. Jamie observes this with a kind of black humour, bluntly talking about his sister's ground up fingers and elbows trapped in an urn. He sees no reason to hide from or filter the truth, and that's where the humour comes from. His family has fallen apart right before his eyes, but he doesn't fully grasp why. Why does his dad hate Muslims so much? Why does his sister Jas, Rose's twin sister, act out on a regular basis? And why can't he be friends with Sunya, a girl at school? Things aren't in black and white for Jamie, instead he sees life as a spectrum of bright colours. That's the appeal of him, and the reason why he's the rightful star of this story.
My Sister Lives on the Mantelpiece
doesn't stop there, oh no. I briefly mentioned Sunya, a girl who befriends Jamie at his new school. He notes that she wears a white cloth over her head and has black, shiny straight hair. And you know what? He doesn't care. Even though Muslims killed his sister, even though they took her away forever, he doesn't let that define his friendship with a girl who offers him her friendship.
This book might sound sad and depressing at a first glance, though it's anything but. It's uplifting and leaves a warm fuzzy feeling in its wake. Most importantly, it shows that people shouldn't be judged by their skin colour or religion because, at the end of the day, it's what's inside that counts. As cheesy as that sounds, it's true. Physical appearances have been stereotypically marred by our present media, and we need to get back to a time when the word Muslim didn't make people turn the other way. Really we just need the world to be a little more like Jamie, whose unprejudiced opinions allow him to uncover the beauty awaiting him.