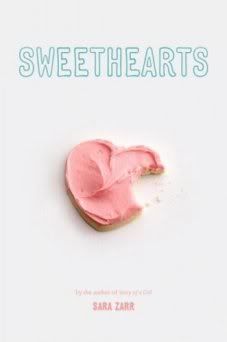 Publisher:
Little, Brown
Format:
Paperback
Released:
February 1st, 2008
Grade rating:
B+/A-
Amazon summary:
As children, Jennifer Harris and Cameron Quick were both social outcasts. They were also one another's only friend. So when Cameron disappears without warning, Jennifer thinks she's lost the only person who will ever understand her. Now in high school, Jennifer has been transformed. Known as Jenna, she's popular, happy, and dating, everything "Jennifer" couldn't be---but she still can't shake the memory of her long-lost friend. When Cameron suddenly reappears, they are both confronted with memories of their shared past and the drastically different paths their lives have taken.
Review:
Sweethearts
is another book I've had for ages that has been hidden away in a box, just waiting for the day when I'd finally feel like reading it. I've always liked the sound of the story, but I wasn't a big fan of Zarr's first book,
Story of a Girl
. This is the perfect example of not judging an author by one book, though, as I loved
Sweethearts
. I thought it was brilliant and heartbreaking, and Cameron Quick has the coolest name ever. Cameron. Quick. Just rolls off the tongue, doesn't it?
So when Jennifer Harris and Cameron Quick were younger, they were the outcasts of the school. Quiet, unusual, loners... every word like that was banded about when talking about these two. Yet they had this bond, a bond that saw them help each other, be there for each other and generally just exist together in a beautiful, innocent way. Then one day Cameron Quick disappears and Jennifer has no idea what's happened to him. All she knows is that people say he died, and no-one tells her otherwise. Devastated isn't the right word to use for the loss she feels, and the instant grief that eats away at her. Her best friend is gone, and she's left alone to navigate the cruel world known as high school. Fast forward 8 years, and Jennifer Harris is now Jenna Vaughn; a thinner, more popular person with friends, a boyfriend and a bright future. Things are great, until she sees Cameron Quick. He's back in her life, and stirring up all her old feelings for him.
What follows is a beautiful, poignant exploration of childhood friendships, love and what it means to let go. Nothing prepared me for what this book was about; I went into it having read nothing but the rather cryptic cover summary, and I'm glad that's how I did it. The way the story unfolds is shocking and expected in equal measure, and I just knew it would take something potentially life-changing to tear 9-year-old Jennifer and Cameron Quick apart. Funnily enough, I never wanted them to be romantically involved. Their bond goes so much deeper than that, and is the kind that is everlasting; unbreakable and strong.
After getting over the somewhat abrupt, at first unsatisfying ending, I can now appreciate what this story is about. I absolutely know that Jenna Vaughn and Cameron Quick are out there somewhere, happily living their lives and writing each other sweet, honest letters. I have to believe that, or there's a chance I'll burst into tears and not surface for a while.
Sweethearts
left me with a broken heart, but the positive kind that will mend over time and remember fondly what it once had. It made me think about friendship and love, and how one doesn't always have to lead to the other. I'm so glad I read it, and I will now unearth my copy of
Once Was Lost
. I need more from Sara Zarr, and I need it now.