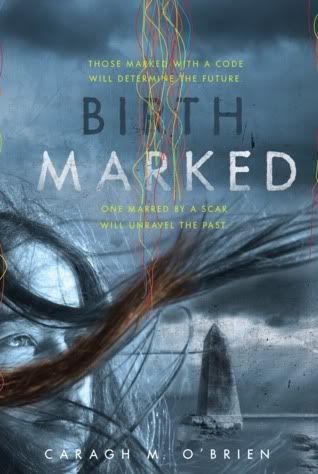 US // UK
I love both of these covers, but for me the UK one wins. I think it's genius (Well done Nick Stearn, designer extraordinaire!). On a first look, I thought the design was pretty simple. But it isn't. I like how the girl's face is made up of the same strapline that appears on the US edition (Those marked with a code will determine the future. One marred with a scar will unravel the past) - I've never seen anything like this before!
I still think the US cover looks more dystopian, because of the dark colours and intriguing landscape. I also like the coloured lines placed vertically down the cover, though I have no idea what they are or how they relate to the story. I'm guessing I'll find out when I read it!
I own both these editions, and it was very hard for me to choose. One is hardback, one is paperback, but each have incredibly eye-catching covers. The UK's awesome design still makes that one my favourite and I think it's actually the best UK cover of 2011 so far. I'm looking forward to see what beats it!
Which do you prefer?