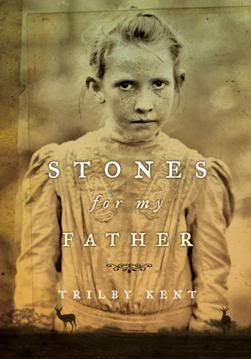 Publisher:
Tundra Books
Format:
Hardcover
Released:
March 22nd, 2011
Grade rating:
B
Amazon summary:
Corlie Roux's farm life in South Africa is not easy: the Transvaal is beautiful, but it is also a harsh place where the heat can be so intense that the very raindrops sizzle. When her beloved father dies, she is left with a mother who is as devoted to her sons as she is cruel to her daughter. Despite this, Corlie finds solace in her friend, Sipho, and in Africa itself and in the stories she conjures for her brothers. But Corlie's world is about to vanish: the British are invading and driving Boer families like hers from their farms. Some escape into the bush to fight the enemy. The unlucky ones are rounded up and sent to internment camps. Will Corlie's resilience and devotion to her country sustain her through the suffering and squalor she finds in the camp at Kroonstad? That may depend on a soldier from faraway Canada and on inner resources Corlie never dreamed she had…
Review:
The Anglo-Boer War is another part of history I knew next to nothing about before reading this book. I'd briefly heard it mentioned a few times in the past, but I couldn't have told you what happened or when it took place. Now, thanks to Trilby Kent and
Stones for My Father
, I have some knowledge of this war that began in 1899 and ended in 1902. This is why I love historical novels: they teach me about periods in history I otherwise wouldn't know a thing about.
Stones for My Father is about Corlie Roux, a Boa girl living with her mother and brothers on a farm in South Africa. Her mother doesn't like her, and regularly speaks to her as if she'd rather she wasn't there at all. I like this aspect of the book, the focus on Corlie's family, as it really brings her to life and makes her a real person rather than an unnamed girl caught up in a war. Her attachment to her brother Gertie is lovely to read about, as is her friendship with local boy Sipho. As Corlie uncovers secrets of her past, and we uncover them with her, it becomes even more apparant that her life is as far from easy as it can get.
Although I do enjoy Trilby Kent's writing - it's brilliant and so rich with historical detail - I can't help but find her novels a bit slow going at first.
Stones for My Father
took me a long while to get into, though I think perhaps it's because I'm learning so much new information for the first time. I'm not very good at remembering historical accuracies (unless they're to do with the Titanic or WWII), and it can end up as a bit of an effort, rather than enjoyment. Still, I'm very glad I read books like this, as I feel like I'm educating myself through a form I love: YA fiction.
Overall,
Stones for My Father
is an interesting, thoughtful novel about a time in history that I don't think is talked about enough. I much preferred it to Kent's debut book,
Medina Hill
, and it's clear she has a love for the subjects she writes about. Her enthusiasm for history is genuinely infectious, and for that reason I look forward to seeing what she comes up with next.
~

Author Interview: Quick Q&A with Trilby Kent
Stones for My Father
is quite an unusual book. What made you write it?
I suppose the thing that's most unusual about it is the setting and historical context - South Africa during the Anglo-Boer War - which admittedly hasn't formed the basis for many YA novels. It's surprising, really, as the war was by far the most devastating of its time and so many things that we associate with later wars - guerilla fighting, concentration camps, trench warfare, etc. - actually made their first appearance in that conflict. It provoked passionate feelings all around the world and proved to be a catalyst not just for the people of South Africa but for many leading personalities of the day: Churchill saw action there, along with Gandhi, Rudyard Kipling and Arthur Conan Doyle.
As if all that's not fascinating enough, I also had a personal investment in exploring this period: my mother is South African and counts among her ancestors the Boer hero Danie Theron.

What research, if any, did you need to do in order to tell Corlie's story?
A year before I began writing the novel I spent some time in the Free State, where my mother's aunt and uncle had a farm. Actually visiting that part of the country - well off the tourist track, and in many ways unchanged from previous generations - was an invaluable experience. Subsequently, I did quite a bit of reading around the subject, from Thomas Pakenham's 'The Boer War' to personal accounts that have been made accessible online, as well as exploring photographic collections and music from the war years.

Do you have another YA historical novel planned? Can you tell us anything about it?
I've had a few ideas for the next YA novel, which will probably also be historical but may break a few conventions along the way. At the moment, though, I'm writing a novel set in a boarding school on an island in the North Sea in the early 1950s. I have about 20,000 words to go - and undoubtedly several rewrites after that!