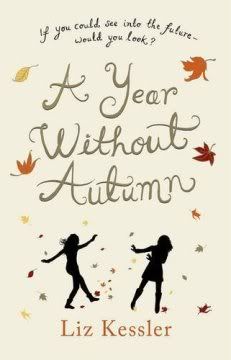 Publisher:
Orion
Format:
Hardcover
Released:
April 7th, 2011
Grade rating:
B+
/A-
Amazon summary:
If you could see into the future - would you look? Jenni Green doesn't have a choice. On her way to visit her best friend, Autumn, Jenni suddenly finds she's been transported exactly one year forward in time. Now she discovers that in the year that's gone by, tragedy has struck and her friendship with Autumn will never be the same again. But what caused the tragedy? How did Jenni skip a year? And can she find her way back to the past to try to change what lies ahead?
Review:
What a pleasant surprise this book was! Not that I didn't think I'd like it - the cover appealed to me straight away - but because I'd never read anything by Liz Kessler before and wasn't sure what to expect. She's well known here in the UK, so of course I shouldn't have worried. It turned out to be a brilliant read, and one that I'm glad I got the chance to enjoy.
A Year Without Autumn
is about many things, including one of my favourite plot devices: time travel. On top of that it's also about family and friendship, and how even the smallest action or decision can change the course of our lives. You wouldn't think it, but even just being five minutes late for something could put you in the wrong place at the wrong time - it's all about timing, and possibly a little bit of luck. Kessler explores both of these in
A Year Without Autumn
, as well as the aftermath of a family tragedy. Don't be fooled by this book's pretty cover, as it does turn out to be a deep, serious read. I don't know about you guys that have read it, but I certainly wasn't expecting that!
The time travel element is cleverly introduced, taking main character Jenni on a journey of grief, confusion and self-discovery. She grows up over the course of the book, but whether that's thanks to her knowledge of the future or because of how she matures as a person, I'm not sure. I'd like to think it's the latter, but I could be wrong. Her friendship with Autumn is one of those friendships where you know these people will be there for each other forever, no matter what life throws at them. I love relationships like that, and it's written so well here. I just wish the people around Jenni would have called her out more on her strange nonsensical ramblings, as I know that's what I would have done had someone come to me and said they'd travelled from the past. Obviously I'd also say it was rather cool, but that's another story.
I'm good to go when it comes to future Liz Kessler books. I hope she writes more standalones for an older age group, because she clearly has the talent for it. I think younger teenage girls will love this book and everything it says, as well as the extremely cool travelling through time part. It's like a less heartbreaking, teen-friendly version of
The Time Traveler's Wife
, with a nifty way of raising thought-provoking questions and themes that are begging to be discussed. A very enjoyable read.
~

Author Interview: Quick Q&A with Liz Kessler
You mention in your acknowledgements that you started writing

A Year Without Autumn

a long time ago. Can you tell us about its publication process?
Well, I first started writing the book after my second book,
Emily Windsnap and the Monster from the Deep
, came out. (It was called Time Share back then. I loved that title, but in the end we all agreed it sounded a bit too much like an estate agent's brochure. I'm so glad we ditched it as A Year Without Autumn is PERFECT!) The idea had been in my head for a while and I really wanted to write it. But when I handed it over to my publisher, she said it wasn't the right time yet. So I went away and thought about what I wanted to do instead. Then I had an idea for a third Emily Windsnap book. After that, I really wanted to write
Philippa Fisher's Fairy Godsister
, and we knew that this was going to be the start of a series of three. So we all decided that after that series,
A Year Without Autumn
would come out. Oh, and then we slipped in another Emily Windsnap book first! So it's been around for a while! I'm so glad that we waited, as this does feel much more like the right time for it, both in terms of fitting in with where my books are up to, and with the kind of thing I think people are reading at the moment.
It's quite different to your other books, and aimed at a slightly older audience. Was that always your intention, and are you planning to write more standalone stories for teens?
I didn't really intend it to be aimed at an older audience, and I don't think I even realised it was until people told me it was! But the subject matter is a bit more serious, and the issues and time travel aspect are slightly more complex, so I suppose I knew that it did feel a bit older. The plan is to write three books which are all standalone books, aimed at the same sort of age. They are all completely separate from each other, but they are linked by the fact that they all deal with some sort of time slip situation. I've just finished the second one of these, and I'll start writing the third one next year. (I've got a fifth Emily Windsnap to squeeze in first!)
Time travel plays a big part in Jenni's story, and it's always something that fascinates me. What are your thoughts on it? Do you think it will ever actually be possible?
It fascinates me, too. I love anything that stretches my brain and sparks my imagination - and time travel does both of these! Will it ever be possible? I really don't know. If it will be, then how come no one has come back from the future to tell us about it? I'd LOVE to think it will be possible. Perhaps there will be very strict rules on how it works. Perhaps we'll only be able to go forward. I don't know. Part of the idea of
A Year Without Autumn
is that idea that at any given moment, there are multiple possibilities for the way our lives could go forward from that point. This is another thing, related to time travel, that really fascinates me. Perhaps one day we'll find a way to move between these different possible realities and choose which one to go forward with. Move between parallel lives. Who knows? Part of the fascination of this whole subject for me is the fact that we just don't know the answers!
A Year Without Autumn

is about time and circumstance, as well as family and friendship. Was it at all difficult to work on so many different threads at once?
It was quite a challenge to make sure that everything worked, and that all the threads tied up correctly. My editor spotted a few loose threads, which I wove back in. I hope that there aren't any still in the book!! But the challenge of doing this was part of why I loved writing this book so much. And believe me, the next one is even more brain melting on that score!
Is there a time period you wish you could travel back to, either from your own life or general history?
I've never been much of a history fan, so I don't have a fascination with any particular period. I think I'm a bit more intrigued by the future than the past! But if I could only go back, and I could go anywhere, hmm, let's think. I don't think I'd go back to a different point in my life, because I'd be scared that I wouldn't come back to here, and I really love my life where it is now! I think I'd have to go right back to the beginning of time!! I'd just LOVE to see how planet earth was really formed. But as it was all probably very explosive, I'd make sure I watched from a distance!!