-----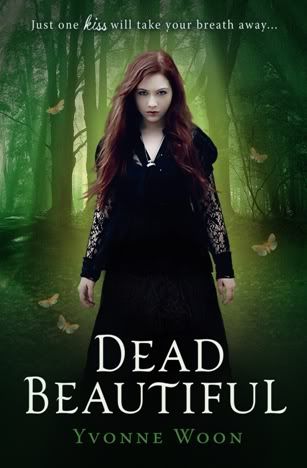 US // UK
Although these covers are similar, I do have a favourite: the UK one. The deep green is a lovely colour for the background, and I think the model used looks better - more sinister somehow. I haven't read the book yet so I've got no idea if she's supposed to look like that, but that's my first impression. I also like the light shining around her, and the flying entities - butterflies? Moths? Extremely well-shaped fairies?
After saying all that, I do really like the old-looking archway on the US cover and, of the two, the US font is my favourite. I think it would have worked better if the model had been looking directly at the camera, as I think her pose slightly detracts from the overall effect. I wouldn't necessarily have said Dead Beautiful was a paranormal book from that cover alone, but from the UK I think I would have done. It's interesting, because they are very similar in style and theme.
Which do you guys prefer?
You can follow the rest of the blog tour until May 6th, with the next stop over at Reading Zone tomorrow.
Dead Beautiful

is published in the UK by Usborne on May 1st. Make sure you check it out!