C. J. Skuse is the UK author of 2010's
Pretty Bad Things
and 2011's
Rockoholic
. She works in children's publishing, and is ever so slightly obsessed with music (like me). There wasn't any doubt about what I wanted this guest post to be about, so here it is: the music that inspired
Rockoholic
. Cheers, C. J.!
~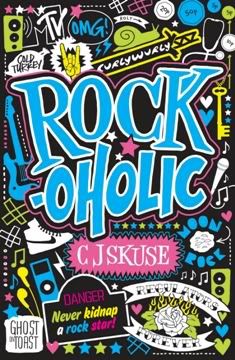 INSPIRATION SONGS FOR '
ROCKOHOLIC
'
1. I'M WITH YOU - Avril Lavigne
I remember this song coming in very handy when writing the scene near the end with Mac and Jody. I think Avril Lavigne is a great songstress and this is such a powerful song.
2. BROWN EYED GIRL - Van Morrison
Van Morrison is a running theme in the book, being the only un-rock song that Jody opens her mind to, all because of Mackenzie. She's his 'brown–eyed girl,' see?
3. OH MY GOD - Ida Maria
This song seems to sum Jody up to me!
4. AMERICAN IDIOT - Green Day
Jackson springs to mind when I hear this song, because he kind of is one, although he doesn't mean it. I always try to see some good in my characters. Also, I went to see Green Day in concert while writing this book and I decided that's what I wanted this book to be – a Green Day concert in words.
5. RUNAWAY TRAIN - Soul Asylum
The line in this song 'You were there like a blow torch burning, I was a key who could use a little turning' reminds me of Jody and Jackson's relationship.
6. DON'T LOOK BACK IN ANGER - Oasis
Oasis was playing a lot when I was writing. Wonderwall, Rock and Roll Star and Don't Look Back… were all very useful and I like how this song references Sally Dinkley, the nosey journalist.
7. LADIES AND GENTLEMEN - Saliva
I really saw Jackson come alive on stage in his first appearance in the book when I hear this song.
8. DEAD! - My Chemical Romance
This song was very much in mind when I was thinking about the song 'Bedlam' by The Regulators, which Jody plays at her grandad's funeral.
9. BLACK - Pearl Jam
Some of the most gorgeous song lyrics ever written are in this song, and they are referenced at the start of the book. They sum up Mac's feelings about Jody and in turn Jody's feelings about Jackson.
10. DISENCHANTED - My Chemical Romance
I think of Jackson when I hear this song, because that's what he is ultimately. He's disenchanted life in the band, and though he doesn't want to end his own life, he knows he wants a way out.
10. HOPE THERE'S SOMEONE - Antony and the Johnsons
I use this song whenever I want to cry-write, or rather create a scene where serious stuff happens. I sued this song at the end and during Cree's big turning-point scene, also near the end.
~


Giveaway!

I have two (2) signed copies of
Rockoholic
to give away, thanks to the lovely Ms. Skuse. It's easy to enter: just fill in the form below. Good luck!
Rules & info:
Open to

UK residents only

.

End date: April 24th, 2011.

One entry per person

.

You do NOT have to follow my blog to enter.
Books will be sent out by me.