In My Mailbox idea from Kristi @
The Story Siren
, and all links take you to Amazon. Click images for a bigger picture!
Another great week, or CoFA week as I'm sure it's now known in the blogosphere. I haven't read it yet, but maybe tomorrow. I received and bought some great books that I'm looking forward to reading, and on top of that my copy of the
Harry Potter and the Deathly Hallows
DVD arrived. A good week indeed :) OH! The
Twilight Saga: Official Guide
is published on Tuesday. I'm literally counting down the hours!
Here's what was in my mailbox: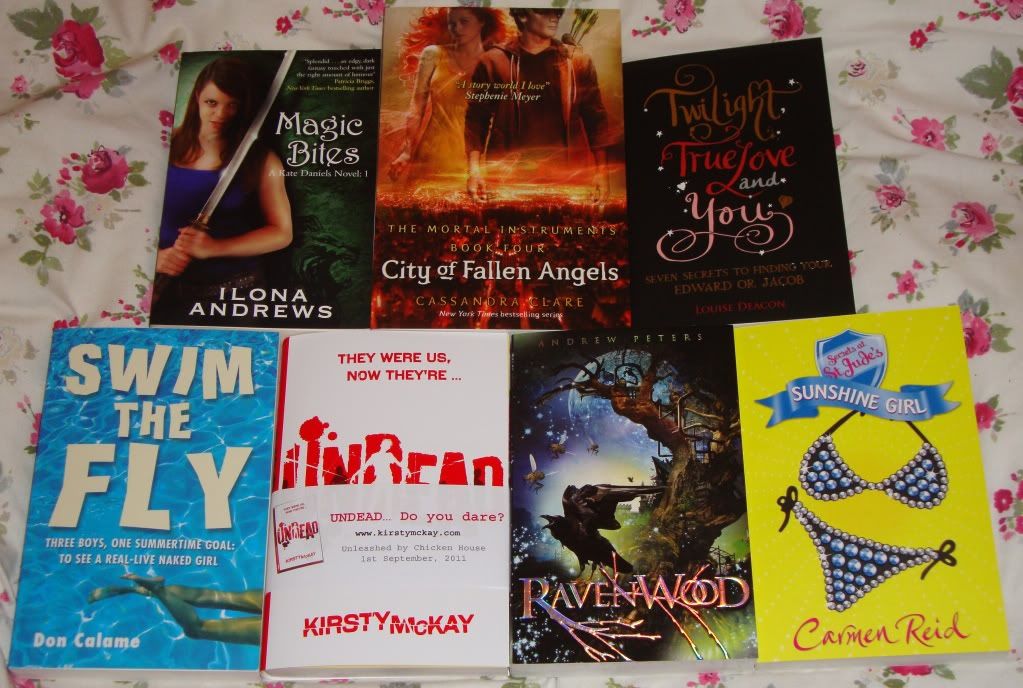 For review:
Carla
has been raving about this series for ages, and basically demanding I read it. It's adult UF (I blame Gail Carriger for getting me interested in this genre), but it sounds ace. I'm looking forward to it.
City of Glass
so much.
promo bag
!
~
Bought:
Saving Francesca
yet, though I do have it. Melina Marchetta is like a god. (Jellicoe Road, anyone?)
Bones of Faerie
in 2009, and I enjoyed it. Looking forward to seeing what this sequel holds.
~
Won:
~
Also, and this isn't book related, one of my best mates Leanne over at
YA Forever
sent me a parcel of awesome. Along with lovely dragon ornaments and
Glee
stationary was a hand puppet of a bat. It's AMAZING, and he's my new friend. I've called him Bram, and he's happily looking after my books on top of my new bookcase. Here he is:
HAPPY READING!