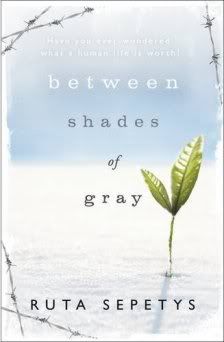 Publisher:
Puffin
Format:
Paperback
Released:
April 7th, 2011
Grade rating:
A
+
Amazon summary:
One night fifteen-year-old Lina, her mother and young brother are hauled from their home by Soviet guards, thrown into cattle cars and sent away. They are being deported to Siberia. An unimaginable and harrowing journey has begun. Lina doesn't know if she'll ever see her father or her friends again. But she refuses to give up hope. Lina hopes for her family. For her country. For her future. For love - first love, with the boy she barely knows but knows she does not want to lose... Will hope keep Lina alive?
Review:
I first heard of
Between Shades of Gray
during the summer of 2010, and knew immediately after reading the summary that I would like it. Anything set during WWII automatically makes its way onto my bookshelf, and I usually end up loving it. Prime examples are
The Book Thief
by Markus Zusak,
Once
by Morris Gleitzman and
The Boy in the Striped Pyjamas
by John Boyne, which are all brilliant and are on my list of books I never stop talking about.
Between Shades of Gray
is now also on that list, and I haven't stopped recommending it since I read it. As a debut novel, it's outstanding, and as a piece of WWII literature, it's honest, important and long overdue.
Between Shades of Gray
chronicles the life of 15-year-old Lina and her family, who are deported from Lithuania to Siberia at the top of the Arctic Circle. In all my years of personal WWII research, through reading YA and adult fiction and watching numerous films and TV shows, I've never come across anything to do with the Baltic States and their involvement in the war. I don't think it's a story that has been focused on or told much, which is why I think Ruta's book is so significant. I'm almost 24 years old, and until a couple of weeks ago I had no idea that Lithuanian people went through what they did at the hands of the Soviets, and being introduced to this part of the war was like discovering an untold story that has been buried for years.
As I'm sure you can imagine, most of the NKVD officers who travelled with Lina and her fellow prisoners were horrible human beings. They had no qualms with killing or hurting adults and children in their charge, and often saw it as a funny game. They were there to do a job, and subsequently treated the deportees as nothing more than an object that needed to be moved from one place to another. At times their actions were genuinely hard to read about and, as the novel progressed, I found myself dreading what I knew was going to inevitably happen. Unspeakable evil took place in all factions of the Second World War, and no matter how much I see or read, it never gets easier to imagine.
Ruta wrote this book as a work of fiction, but did extensive research beforehand which led to many real-life survivor's stories being interspersed with Lina's fictional account. Knowing that before I read the book made it even more heartbreaking and eye-opening, as the whole time I was wondering which scene actually happened and which poor person really did lose their life to the Soviets. It made it all the more real knowing that the story was grounded in so much truth and reality, and I think the Latvian heritage has been preserved with an enormous amount of respect. The memory of the millions of people involved in this war, and those wars before and after, deserves nothing less, and I'm really glad Ruta told this story in the way she did.
I knew
Between Shades of Gray
would reduce me to a sobbing mess - I knew that before I even read one single page - but I wasn't prepared for it to affect me the way it has. It's become one of those books that has engrained itself in my mind and one that, so far, I find myself coming back to at regular intervals. If every school library doesn't have a copy of this on their shelves, it will be nothing short of a crime against all that the education system stands for. It's a hopeful story that needs to be read, absorbed and passed on but, most importantly, it's a story that needs to be remembered and talked about for many years to come.