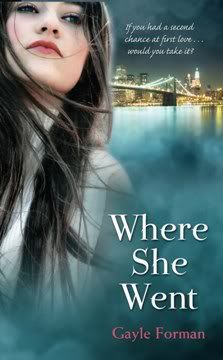 Publisher:
Doubleday
Format:
Trade paperback
Released:
April 28th, 2011
Grade rating:
A
Amazon summary:
If you had a second chance at first love . . . would you take it? It's been three years since Adam's love saved Mia after the accident that annihilated life as she knew it . . . and three years since Mia walked out of Adam's life forever. Now living on opposite coasts, Mia is Julliard's rising star and Adam is LA tabloid fodder, thanks to his new rock star status and celebrity girlfriend. When Adam gets stuck in New York by himself, chance brings the couple together again, for one last night. As they explore the city that has become Mia's home, Adam and Mia revisit the past and open their hearts to the future—and each other.
Review:
You know when you read a book that blows you away, and it doesn't really demand a sequel but you get an amazing one anyway? Well, that's
Where She Went
for you.
If I Stay
in no way needed a sequel, an explanation of what happened next, but here it is in all its glory. I'm not sure why I ever thought I was happy not knowing what happened to Mia and Adam's story, but I'm glad Gayle Forman knew something I clearly didn't. She's a clever lady.
Mia and Adam are meant to be together. They just are. They're supposed to get married and have children, and do everything they'd planned before Mia's earth shattering accident. Right? You'd think so, but that's not how the novel opens. It's three years in the future, Mia's just graduated and is preparing to tour the world playing the cello, Adam is in a super famous band and, here's the kicker, THEY'RE NOT TOGETHER. They're not even in contact; in fact, they haven't seen each other for ages. They live in completely different places. Talk about a heartbreaking start to a book - how could this happen?
A chance meeting in New York sees Mia and Adam embark on a night of questions and answers, of truth and lies, all the while framed by the backdrop of the city that never sleeps. They evaluate, pick their past actions apart, and come to a conclusion. I'm not saying what that conclusion is, just that it's there. It's present. If you're like me, it'll probably make you sob into your blanket while you desperately try to keep your eyes open and clear, wanting, no, NEEDING, to know what happens next. What's on the cards for these two people you've fallen head over heels in love with?
Where She Went
is realistic and raw, showcasing the knowledge that people aren't perfect. Not even awesome fictional people who play guitar and make their girlfriends keep breathing. It shatters the illusion of an ideal world, and makes you realise that life is what you make it. I honestly didn't think Gayle Forman could write another book even nearly as good as
If I Stay
, but I was so wrong. Have faith in this woman, 'cos she will not let you down. She'll make you cry, but she'll do it in an epic way.