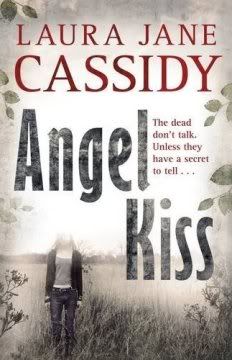 Publisher:
Puffin Razorbill
Format:
Paperback
Released:
May 5th, 2011
Grade rating:
B+
Amazon summary:
Jacki King is fifteen and adjusting to her new life in a small village. She's missing Dublin but she's making new friends: artistic Colin, feisty Emily – and Nick, gorgeous yet unavailable. But no sooner is Jacki settled than the torturous headaches and nightmares begin – followed by strange visions, voices and signs… Jacki refuses to believe that something paranormal is happening. But then she discovers the unsolved murder that occurred in the village years before...
Review:
Angel Kiss
is the debut novel from young Irish author Laura Jane Cassidy. It tells the chilling story of Jacki King, a girl who moves to a new area and begins to unravel a 25-year-old murder mystery haunting the town where she now resides. It's not about angels - fallen, guardian or otherwise - and instead its title namesake comes from a particularly inventive personal feature that has everything and nothing to do with Jacki's ability and her duty to murdered girls.
Whipping through this book at lightning speed is easy: it's well written and engaging, though it does tend to suffer from telling the reader every last thing Jacki does. Rather than detract from the story and bore its readers, the abundance of descriptions serve the purpose of making Jacki likeable and endearing and show what an aware, conscientious character she is. A sweet, somewhat easy-to-instigate romantic relationship also peppers the pages of
Angel Kiss
, making it pitch-perfect for its target teenage readership. Angst and drama are par for the course in this novel, but there's also a very clever plot to accompany it.
Angel Kiss
follows a steady pace for most of the page count, with clues and revelations presented in small doses. It builds to an exciting crescendo at the end, with Jacki coming full-circle and ending up where she started. It's a clever turn of events, and one that leaves the door wide open for future sequels, should Cassidy wish to go down that path. Creepy and believable,
Angel Kiss
is an intelligent thriller for teens everywhere. And remember, don't let the misleading title win out - this isn't a paranormal romance and there isn't a pair of brooding black wings in sight.