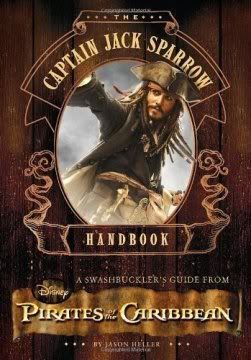 Publisher:
Quirk
Format:
Hardcover
Released:
May 5th, 2011
Grade rating:
B+
Amazon summary:
Illustrated with film stills, line drawings, and helpful diagrams, "The Captain Jack Sparrow Handbook" will cover everything a swaggering swashbuckler needs to know, including: How to sail a ship; How to climb rigging; How to decipher a treasure map; How to break a curse; How to survive being marooned; How to battle a sea monster; and much, much more. With skills derived from all three films-and up-to-the-minute data regarding the forthcoming "On Stranger Tides" - this handbook will be a surefire hit with Pirates fans of all ages.
Review:
Ahoy me hearties!
In my opinion, Captain Jack Sparrow is the best fictional movie character of the last decade. At least. Johnny Depp has brought the loveable pirate to life for the fourth time recently, with
Pirates of the Caribbean: On Stranger Tides
hitting cinemas worldwide. There's no better time for a fun Jack Sparrow handbook, don't you agree?
Jason Heller has basically compiled a how-to guide for becoming a pirate. In this book you'll find clothing tips, advice on how to deal with mermaids, how to successfully smuggle, how to escape when you're tied up and the correct way to insult your fellow sea men. Nothing is left uncovered in the
Captain Jack Sparrow Handbook
, and even I now feel like I could follow in Jack's footsteps! In addition to all this, you'll also find ship plans, lists of essential sailing objects and a key to reading a pirate's map. Each section is supplemented with images from the
Pirates of the Caribbean
movies, as well as original pirate drawings to illustrate the text.
My personal favourite section is right at the end, titled 'Appendix: Piratical Lingo'. I feel well-versed in all things pirate, and I reckon' I'd fare okay if I was ever marooned on an island by myself. This book is a laugh-a-minute read (there's even pirate hygiene tips!), and the perfect companion for those people looking into a pirate's life at sea. I think it'd be pretty fun, albeit dangerous and a bit too creepy. Fanged mermaids aren't the norm, and I'd hate to run into them with only a small monkey for company. Anyway, I've now brushed up on my swashbuckling skills and I'm all set to grab my cutlass and declare mutiny on the Black Pearl. Argh!