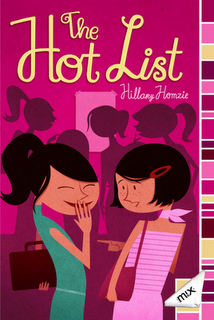 Publisher:
Aladdin
Format:
Paperback
Released:
March 8th, 2011
Grade rating:
B/B+
Amazon summary:
It all starts as a goof between Sophie Fanuchi and her BFF Maddie Chen--a "Hot List" the two girls create and anonymously post in the girls' locker room listing the cutest boys at Travis Middle School. Soon enough the list has taken on a life of its own. Maddie's thrilled to be caught up in all the excitement and finally hanging out with the "pops," Travis Middle School's self-proclaimed It Girls. As Sophie and Maddie's friendship unravels, Sophie latches onto an impulsive bet get the universe right again--Sophie declares she'll prove the list is meaningless by making over their wacky classmate Squid so that he can land on the Hot List. But will any bet or list matter more than Sophie's friendships...?
Review:
The Hot List
is another fun book for tweens, and would no doubt make a great teen film. It's got everything: middle school gossip, family relationships, hot boys, wavering friendships and a 'Hot List' that creates high levels of drama in the classrooms. Each character -- with the exception of Nicole and Heather, who I thought could have been more developed -- are well-rounded and realistic, and very typical of seventh grade students. I also loved the idea of the Hot List, which is a list of the hottest girls and boys in the school. It goes up every month, and is understandably the most talked about event at Travis Middle School.
Although I do like the idea of the Hot List, I'm a bit miffed at the fact that none of the school's teachers ever get involved in it. I thought they'd take charge and get rid of it so that no students got upset when they didn't appear on the list, but maybe that's just me feeling sorry for everyone left out. I also wish the identity of the person posting the list after Sophie and Maddie initially start it would have been revealed. I've come to my own conclusion that it was an unnamed classmate, but I would have preferred a big reveal or a shock confession. Alas, there wasn't one.
The Hot List
has plenty of worthwhile messages to pass onto its readers, including the ones that say friendship is more important than popularity and that you don't have to look good to be liked. I personally think these are both important things for middle schoolers to know, and I'm glad both are addressed here. I really enjoy these tween books published by Aladdin, and I hope I get to read more soon. They're a fantastic addition to contemporary middle grade fiction, and it's like they're a genre of their own. I wish there would have been books like this when I was that age, because I would have read them all numerous times!