Publisher:
Walker Books
Format:
Paperback
Released:
April/October/November 2010
Grade rating:
Attack of the Trolls
:
B-
Terror of the Nightwatchman
:
B+
Rampage of the Goblins
:
B+
/A-
Amazon summary:
Now that Luke, Resus and Cleo have worked out how to rid Scream Street of invading normals, they're keen to begin their new quest right away. First stop, Count Negatov's castle! As the trio make their way through the bleak, murky wilds of Transylvania, it seems that this adventure will be dull, but easy. Until, that is, they're kidnapped by trolls…
Review: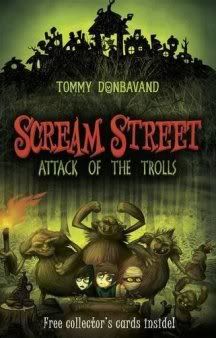 Attack of the Trolls
isn't my favourite
Scream Street
book so far, but it's still a great read. I don't actually think 'bad' is a word in Donbavand's vocabulary, as every book in this series is entertaining, funny and chock-full of eye-rolling puns. In this eighth instalment, our young heroes find themselves up against a nasty set of trolls, two of them who go by the names of Little Bennett and Stumper. Little Bennett is huge (ha!) and Stumper has a wooden leg (haha!). See what I mean about the humour? I love it.
On their travels, Luke, Resus and Cleo also encounter giant birds called Nasterns, Berry the zombie and Count Negatov himself. After the events of book #7,
Invasion of the Normals
, they're now on a quest to return all 6 relics to their owners, starting with Count Negatov's fang. So far things are going as planned, but how will they fare on their next adventure? Read on to find out...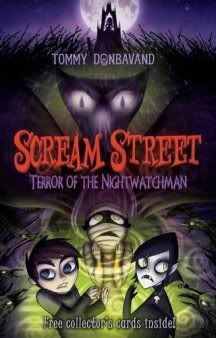 In
Terror of the Nightwatchman
, Luke and Co. find themselves going through a sneaky Hex Hatch that leads to a jungle, a nice ogre named Spider and a Nightwatchman intent on making children's dreams as hellish as possible. Even I was a little creeped out while reading, so I can't imagine how an 8-year-old will cope. Of all the
Scream Street
books I've read so far, I think this is definitely the scariest one. It reminded me of a
Buffy the Vampire Slayer
episode called 'Nightmares', which is all about being trapped in dreams and facing your fears. Obviously it's brilliant, and I was happy to see a similar idea terrorising the residents of Scream Street.
This book also marks the appearance of a new character - Spider the ogre. He's not your average ogre, in the sense that he's actually lovely, and helps children escape from the horrible Nightwatchman. He's like a big cuddly teddy really, and what's even cooler is that Tommy based him on a real-life friend and fellow
Scream Street
fan. I hope he appears in future books, as he brought even *more* humour to the story! (I know, I didn't think that was possible either...)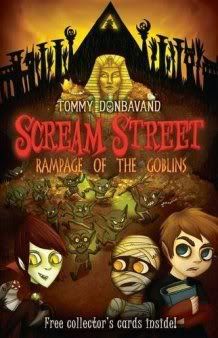 Rampage of the Goblins
has to be one of the funniest books in this series so far. The Movers are featured more, and we encounter two brilliant characters: Dave the Leech (Resus's cute giant leech he found under a rock in his garden. I loved him.) and The Great Guff (a very stinky king goblin). There are also evil mermaids with horribly sharp teeth, an appearance from Heru the mummy, a royal wedding and an unexpected trip to Egypt. As you can see, there's a lot packed into this book!
I love it when the little green goblins show up in this series, especially Squiffer. It's an excuse for more cute illustrations from Lily Bernard of Cartoon Saloon, and the little creatures always provide pages and pages of humour. Their grasp of the English language is pretty bad, so they end up saying things like "I be here to make special announce". Hehe! I don't know if we'll see them again before the series ends with book 13, but I can always hope for one last big reunion.