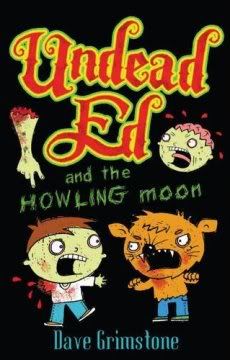 Publisher:
Hodder
Format:
Paperback
Released:
May 5th, 2011
Grade rating:
B/B+
Amazon summary:
Forget everything you've ever seen or heard about werewolves, zombies and vampires because Ed Bagley's going to tell you the single most important fact you'll ever learn: BEING UNDEAD ...especially if you're a kid. On his 13
th
birthday, Ed Bagley is hit by a truck and killed. But things go from tragic to freaky when Ed wakes in the sewers beneath the town of Mortlake with only a note from his missing left arm to explain that he's
undead
: a zombie, a walking corpse whose skin rots and oozes. And as if all this misfortune wasn't enough, there's a lunatic killer on the loose in Mortlake... and only Ed can stop him.
Review:
The first thing I want to say about
Undead Ed and the Howling Moon
is that it's funny. Really funny. I lost count of how many times I laughed out loud, and I even read certain passages out to my parents so I could share the laughs. It's written with dark, deadpan humour and is very blunt in parts. Ed doesn't beat around the bush: he tells it like it is, even if that means describing in great detail how there's a worm living in his decaying face! Brilliant.
Although this book is about death (obviously), it's not depressing or hard to read. Ed makes light of everything, even his untimely demise at the wheels of a truck. Oh! Have I mentioned that his left arm is possessed, and basically does what it wants? Because it is. And it does. It's an evil appendage if ever I read about one, and could give Devon Sawa's Idle Hand a run for its money (FYI:
Idle Hands
is a great comedy-horror film from 1999. If Ed was older, he'd be like this, I'm sure of it).
There's also some fantastically random charactars in
Undead Ed
, and I liked every one of them except Kampo Cheapteeth the evil clown. Max Moon, Ed's dead friend, is my favourite after zombie Ed, as he's a really cute werewolf with a sharp bite and lots of intimidating fur. If you want someone on your side, it'd be him and Jemini the vampire. What a group of friends!
Undead Ed and the Howling Moon
is such a fun book, and is ideal for fans of the
Scream Street
series. It's gruesome and clever, with some great illustrations alongside the text. I wish it had been longer, as I could have read a lot more. I also would have liked for Kampo Cheapteeth to appear more, but I think we'll be seeing a lot more of him in the next book,
Undead Ed and the Demon Freakshow
. I'm glad I've found yet another younger character to read about - Undead Ed is going to make for a very fun series!