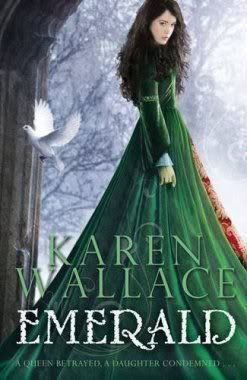 Waiting on Wednesday idea from Jill at Breaking the Spine.
-----
Emerald
by Karen Wallace
* Published by: Simon & Schuster (UK)
* Format: Paperback (UK)
* Release Date:
August 4th, 2011 (UK)
* On Amazon:

here





Summary from Amazon.co.uk:
Emerald St. John is in trouble. She has been condemned to marry a man she hates, her enemies are conspiring to have her pet bear Molly torn apart in the baiting pits, and the man she loves is far away on the high seas. And she has stumbled into a web of spies with a plot to poison Queen Elizabeth I. To save herself and the kingdom, Emerald must beat the spies at their own game - which means transforming herself from a country girl into a lady of the court. Can she do it in time?
This sounds brilliant! Pet bears, men away on sea adventures and plots to poison the Queen? Count me in! I do like historical novels, but I like them to have more to them, if that makes sense.
Emerald
sounds like it will be a fast-paced, exciting story with more to it than meets the eye, and I'm really looking forward to reading it. Oh, and isn't the cover lovely? I *think* it's the final one, but don't quote me on that.