The lovely Phil Earle, author of
Being Billy
, recently revealed the jacket for his second book,
Saving Daisy
. So here it is... what do you think? When I first saw it, I wasn't too keen on the model they'd used for Daisy. However, she's now grown on me, and I also love the bright red colour and that the design matches
Being Billy
. Oh, and there's a Morris Gleitzman quote on the back. It doesn't get much better than that!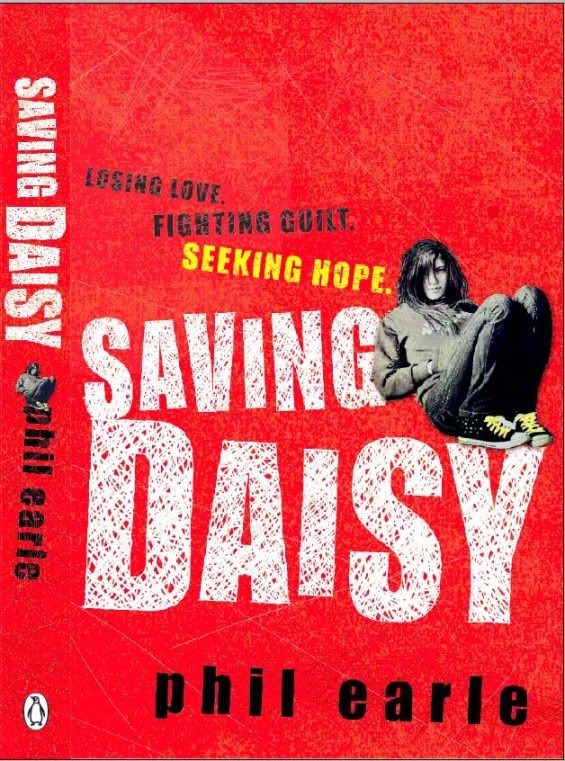 Saving Daisy
isn't published until 2012 (Sob! Earlo fans - form an orderly queue behind me...) but Phil has given me exclusive permission to post the prologue. I don't know about you, but after reading this little snippet I wanted to read the rest of the book straight away. Talk about intriguing!
My name is Daisy Houghton.

I'm fourteen years old.

Six months ago I killed my dad.

It wasn't pre-meditated or bloody. I didn't even have to lay a hand on him.

Speaking to him was enough.

He didn't know what was coming. How could he? All he was doing was protecting me. Doing what any parent would do.

I should have realised though. Seen the danger in what I was doing. That what I had to tell him was too great for anyone to carry.

If only I'd kept my mouth shut. If I had done, he'd still be around, and I'd be at home.

Instead I'm here.

In a room with plastic windows and a bed that's bolted to the floor.

It's not prison, but that's where I deserve to be.

I know what you're thinking by the way.

Where's your mum? Why aren't you home with her?

That's the problem.

I killed her too.
Don't forget to check
Saving Daisy
out next year! And for more info, visit Phil's website or follow him on Twitter: