The Queen Must Die
by K.A.S. Quinn is now out in paperback in the UK, and today I'm kicking off the blog tour. Hope you enjoy this guest post and extract!
~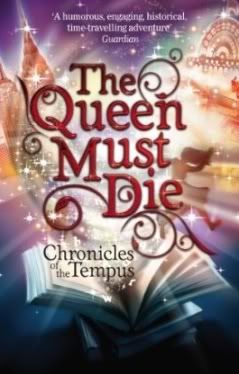 I think reality is over-rated
I write because I love to read. Anything. The owner's manual for my old CD player,
War and Peace
, the back of the cornflakes box. Anything. I have a bad case of readeritis, but it was worse when I was younger. At the age of 11 I read so much, I thought it might be terminal.
Making the move from reader to writer seemed natural, but still terrifying. When I finally got up the courage to write a book, I wrote it for the best reader I could find; and that was me, as an eleven-year-old.
I did succeed in writing a book that both the 11-year-old me and the grown-up me would want to read:
The Queen Must Die
. It's not for everybody; in fact you might as well shoot me now, as there are NO vampires , not on even on a single page. It is, though, filled with everything I like: the New York City of here-and-now, London circa 1851 - lots of good history and weird fantasy – two girls who form a fantastic friendship – and a boy who learns girls aren't as ghastly as he thinks.
The prologue is about reality and imagination. I have trouble sometimes separating the two, and the main character, Katie, is struggling with this as well. Katie is a New Yorker. Her mother is a minor celebrity, her life is pretty comfortable. But Katie is lonely, and then she begins to have these visions. I think Katie is very lucky, because her visions are of the Victorians. I'm mad about the Victorians. And madness is the question in the prologue. As Katie asks herself: "Am I going insane?"
The Visions



Was she going insane? The visions were appearing
with greater clarity and ever more frequency. Just
yesterday, Katie had turned the corner to find a tall man in
a black silk top hat. He seemed to be searching for someone
amid the chaos of the 86th Street subway station. He
was deathly pale, with creased, almost dusty skin – his
pallor emphasized by his strange close-fitting black
garments. The only colour about him was his eyes. They
glittered green in the sun as he reeled around and strode
towards Katie, raising his walking stick as if to strike her.
He opened his mouth, but no sound came out. Instead, the
word 'SEEK' formed in the air before him, floating above
his head like the message of a sky-writer. And then he was
gone – disappearing through the steam of the subway.

He wasn't the first. There was the girl with the grey eyes
and serious face. Katie had thought she might just be some
new neighbour. But then Katie had noticed the long
starched skirts, the high, buttoned leather boots and the
ridiculous fur muff. She too spoke in these silent smoke
signals. 'I will serve,' she declared, looking so kind and
grave that Katie longed to hear her voice. Afterwards came
a series of children. The one in rags, the tiny urchin girl, so
pretty and so timid – 'I will sacrifice' hung over her like a
pall. Such a frightened child, but Katie could never quite
reach her. And then there was the small smug boy in velvet
shorts and a ruffled shirt. Katie recoiled from his message:
'I will slay.' These children, these visions, whatever they
were, they weren't just in the wrong neighbourhood; they
seemed to be in the wrong time. They had something to
say, but Katie didn't know what, or why. She tried to shake
it off, shrug her shoulders and ignore it all, the way New
Yorkers blank the freaks and weirdos of life. But today's
episode had changed everything.

Walking home from school, she'd come face to face with
a small plump woman in fancy dress – pink satin swept off
the shoulders with six inches of silver lace and an abundance
of diamonds. The little lady's pigeon eyes twinkled
with pleasure as she talked and laughed with someone
directly behind Katie. But when Katie turned around all
she could see was a businessman talking on a cellphone.
'Not another vision,' Katie thought, her stomach lurching
upwards. 'There must be a rational explanation for this.
Was it performance art? A carnival? A commercial?' Katie
scanned the streets for a camera.

Suddenly the little woman's eyes bulged. Her mouth
opened in a silent scream as she backed away and slid
down the side of the building. Katie ran towards her, and
then took a step back. A bright crimson stain was spreading
over the bodice of the small woman's pink dress. The
woman held her arms out, as if pleading for aid, and then
her eyes rolled back in her head. She slumped; lifeless in a
heap of satin and blood. 'Help,' Katie cried, 'help!' The
passers-by looked briefly at Katie and, deciding she was just
another crazy person in the street, turned away. They kept
walking, talking, drinking coffee out of paper cups and
looking at their watches. One man, reading the newspaper,
actually stepped through the woman and the growing pool
of blood. And then the woman was gone, the sidewalk
clean where there had been gore. Katie's legs buckled,
she'd have to sit down – right there on the sidewalk. She
wiped her forehead. This habit of seeing things. This was
not good. She'd have to tell someone, but who?
~

Stop by
Books 4 Teens
to continue the blog tour, and find out more about
The Queen Must Die
over at
Atlantic Books
.