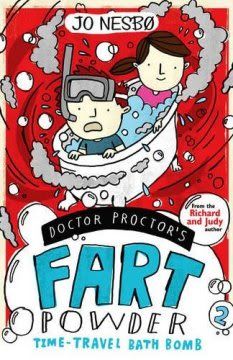 Publisher:
Simon & Schuster
Format:
Paperback
Released:
April 28th, 2011
Grade rating:

A-
Amazon summary:
The Fart Powder was such a successful invention that Doctor Proctor couldn't stop there. Next up: a Time-travel Bath Bomb. Throw the Bath Bomb in the tub, lather up and imagine where you'd like to visit. The battle of Waterloo? No problem. The French Revolution? Let's go! Doctor Proctor has plans for this new invention. Years ago he lost his true love, Juliette Margarine, and now he wants to change the past and win her back. But when his plan goes awry, it's up to Nilly and Lisa to travel in time and save the day.
Review:
This series is mental! It's wacky and hilarious and I love it. If these books bad been around when I was eight or nine, I would have read them in one sitting while laughing my head off. As it is I laugh all the way through them now, so I can't imagine what a younger reader must think!
Nilly is the best thing about this series. He's a small boy with red hair who talks like he's a thirty-year-old. He's also very polite and rather blunt in his speech, making his dialogue the funniest part of the book for me. He can talk his way out of any situation (and I do mean that - it's a gift he has), and he's also fiercely loyal to his friends Lisa and Doctor Proctor. I'd want Nilly on my side if I had a problem, that's for sure.
Time-Travel Bath Bomb
features, as you might have guessed, a lot of time travel. Nilly, Lisa and Doctor Proctor end up going to the most random of places and times in history, and each visit is suitably humourous. Even when there's a chance Doctor Proctor will be burned at the stake, a roller skate saves the day. Obviously this will make little sense to you now, so read it and find out what I'm talking about!
Jo Nesbo is a famous crime-writing man who has somehow successfully made the transition into children's fiction. I don't know how he's done it, but he has. I'm at the point now where I'll read any kids books with his name on it - if he writes it, or even recommends it, you can count me in. We all need some fun fiction in our lives and
Doctor Proctor's Fart Powder
is here to provide just that. More please!