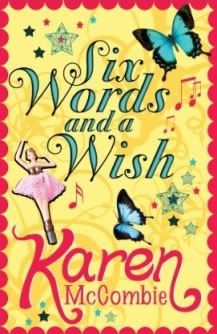 Publisher:
Scholastic
Format:
Paperback
Released:
May 5th, 2011
Grade rating:
B
/B+
Amazon summary:
Ever since Jem's sister Gracie ran away from home, Jem's wondered whether she's to blame. Something she said to Gracie before he disappearance is preying on her mind - Jem couldn't be the reason behind her vanishing, could she But one summer, a series of strangely spooky coincidences make Jem wonder if there's more to Gracie's disappearance than she thought... Can Jem find out the real story behind Gracie going? And will her big sister ever come home?
Review:
Six Words and a Wish
is a great book for teen girls, especially those who like Cathy Cassidy and Cathy Hopkins. It's about family and friendship, and is emotional, dark and light all at the same time. Jem's sister, Gracie, went missing a couple of years ago, and no-one has heard from her since the note she left for her parents on the day she disappeared. Jem's parents haven't stopped thinking about her, and Jem hasn't stopped feeling guilty about a wish she made the day before Gracie left. Several Gracie-themed coincidences make Jem think her sister's not that far away at all, and she might just be right.
Six Words and a Wish
is a lovely book, in part because of how Jem's family life is portrayed. Her dad's a happy clown, her mum owns a cafe and her dog is old and dippy. They're one of the happiest families I've read about in a long time and I really like that. It's not all doom and gloom in this book, though there's always that feeling of unease when Gracie's disappearance is addressed.
Friendship is also a big part of
Six Words and a Wish
, with Jem's best friend Iris being more family than friend. I identified with Iris so much, as i too am a hypochondriac. It was fun seeing how daft she (and I!) sounds, with creaking knees and phantom pains all over the place. Jem and Iris also make a few new friends when they join a band, one of which could turn out to be more than a friend for Jem. I hope there's a sequel so I can find out!
Definitely give this book a try if you like the authors I mentioned above, and especially if you want to meet a fictional family who define the word kooky. It's a quick, enjoyable read with wide appeal - what are you waiting for?!