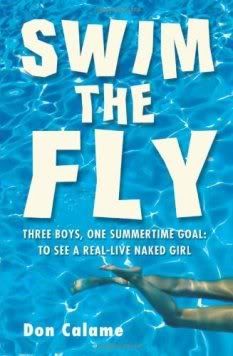 Publisher:
Templar
Format:
Paperback
Released:
May 9th, 2011
Grade rating:
B/B+
Amazon summary:
Fifteen-year-old Matt Gratton and his two best friends, Coop and Sean, always set themselves a summertime goal. This year's? To see a real-live naked girl for the first time. But this mission impossible starts to look easy in comparison to Matt's other challenge: to swim the 100-yard butterfly and impress the gorgeous Kelly West.
Review:
I have one word for this book: hilarious! I was in my bed reading it and at one point I was laughing so much that I scared my cat away. And she's a tough cat. If you're wondering, it was Chapter 12 that tickled me so much. I couldn't believe what I was reading, it was so embarrassing and brilliant. Genius.
So, 3 15-year-old boys - Matt, Sean and Coop - make a pact to see a girl naked by the end of the summer. (You already know this isn't going to end well, right?) Matt also volunteers to swim the [butter]fly for his team, all in the hopes of impressing a cute girl. Boys + pacts + girls =
American Pie
, and we all know how that turned out. Have we learnt nothing from Jim and Stifler?! Swim the Fly is like a younger version of that film (which I love very much) crossed with the
The Inbetweeners
. There's nothing else I can liken it to, and hopefully that comparison will give you a good idea of what awaits you on these pages.
It's quite rare for me to read a YA book narrated by a boy; they seem few and far between. I love getting an insight into the mind of a teenage boy, and I kinda wish I'd have read
Swim the Fly
when I was 15 - I would have teased my boy friends non-stop! Just when I thought Matt couldn't possibly get himself into another tricky situation, along came a dress or a pool party. I think bad luck just followed him around, until he met Ulf the swim teacher. That dude was mental, but he knew what he was talking about!
Swim the Fly
is the funniest book I've read for a long time, and one of only a handful to make me laugh without being able to stop. It's mostly about friendship, but you'll find some girls and swimming in there too. My only niggle is that I think it could have done with being a bit shorter. I was getting restless by the end of the 300+ pages, but as always I'm sure other readers won't even notice, or care, about the page count. Oh, and it's not for the faint of heart or younger readers, nor is it for people susceptible to hiccups from laughing too much. You have been warned!