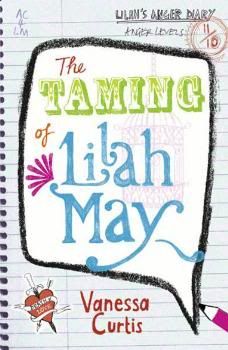 Publisher:
Frances Lincoln
Format:
Paperback
Released:
May 12th, 2011
Grade rating:
B
Amazon summary:
Lilah's Anger Diary, March 26th Anger levels: 11/10 I'm Lilah May and I'm ANGRY. So angry that I'm about to be excluded from school, my parents can't control me, and only one person in the world understands me. And that's my best friend, Bindi. I haven't always been this way. It all started with my brother Jay. And what no one realises is that it's all my fault.
Review:
I went into
The Taming of Lilah May
expecting it to be a fun, quick read. It was the cover that gave me that impression, which I now know wasn't entirely accurate. It's a great book, but not one I would necessarily call fun. It's serious and sad, yet still laced with the kind of humour that I immediately associate with Vanessa Curtis. This book actually affected me more than I thought it would, which was a surprise. A good one though.
Lilah is angry, but I'm not going to say why. I don't want to ruin the book for anyone, because how everything develops is best experienced from a spoiler-free standpoint. I will say that this book is about family and friendship, and hurt and guilt. It looks at the way one wrong action or sentence can change the course of lives forever, and how, once set in motion, certain actions are very hard to take back.
I think Lilah is one of those characters that will appeal to people, that will worm her way into their hearts. She's witty and so very angry, with her own 'Lilah-isms' made up to help her cope. My personal favourite is 'groo', a word I'm quite tempted to add to my every day vocabulary. It defines Lilah and her fun mindset, most of which is buried deep under her anger and despair.
I'm looking forward to more from Lilah and Vanessa Curtis, as she has a clever way of making her books a delightful mix of serious plots and edgy, contemporary dialogue. I wouldn't object to a longer page count either. I always find myself wanting to read on!