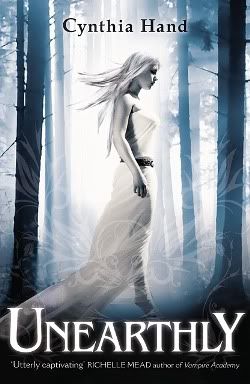 Publisher:
Egmont
Format:
Paperback
Released:
May 2nd, 2011
Grade rating:
A-
Amazon summary:
Clara has known she is part-angel since she turned fourteen two years ago. But only now, through fragmented visions of a terrifying bush fire, is her Purpose - the crucial rite of passage for every part-angel - becoming clear to her. When Clara meets Christian, the boy in her visions, he is everything she could wish for - so why does she also have feelings for her enigmatic classmate, Tucker? Clara discovers that her Purpose is only a small part of a titanic struggle between angels and their destructive counterparts, the Black Wings. And when the fire of her vision erupts and both Christian and Tucker are in danger, who will she choose to save?
Review:
I was a bit reluctant to read
Unearthly
after I heard that it was yet another book about angels. I've read quite a few recently and only one or two have stood out. I should have never worried about
Unearthly
, though, because it's brilliant. Seriously, it's like discovering a breath of fresh paranormal air after being trapped in a heavy fog for a couple of years. The writing is fantastic and I really couldn't tell that Cynthia Hand is a debut author; her prose is utterly compelling and her ideas manage to be original even with the abundance of angel novels I mentioned earlier. It's quite a long novel clocking in at just over four hundred pages, but the pages almost turn themselves. Can you tell yet how much I enjoyed it?!
Clara was a fascinating character and I loved how we found out about her purpose when she did. She's known she's part-angel for a couple of years, but she doesn't know everything about their heritage and the do's and dont's of the angel world. When she first found out about her purpose - when she gets a strange vision of a boy in a burning forest - her whole family upped and moved to Jackson Hole, Wyoming, or the "boonies" as it's referred to. That's how important an angel#s purpose is. Clara made a few friends in Jackson Hole pretty quickly: Wendy and her twin brother Tucker, mysterious girl Angela and Christian, the boy from her vision. Jackson Hole was the kind of place where boys (Tucker) dressed like cowboys and drove trucks like farmers. I like cowboy boys, and I am not above admitting that I swooned a few times. Tucker was like my ideal boy, so I was on his team from the start. The checkered shirts get me every time!
I thought the secondary characters were well-rounded and likeable, but I never really warmed to Angela. I get why she was important, and she was, but I thought Wendy was a much better friend who seemed to get left by the wayside. I couldn't help wondering if she was merely there as a way for Tucker to be in Clara's life, but I'm going to wait and see what pans out with her in the second book. You might have guessed that Unearthly is home to a love triangle, but don't let that put you off: it was a great one. I rooted for one boy right from the start, and I was happy with where his story took him. That's all I'm going to say about that, as there was always a clear winner for me. Whether or not I was right is something you'll have to find out for yourselves!
Hand's angel mythology got me hooked from the start, and I thought the whole thing was fascinating. These angels were different to any angels I've read about before, which really made the novel stand out. I'm still thinking about it now, about the wings and actual flying that took place throughout the course of Clara's story. I'm hoping we'll find out even more angel mythology in the next book in the series, as it was definitely the strong point of this one. It set it apart from the crowd and kept me interested and guessing all the way through the book.
Unearthly
had a great setting, enthralling characters and one heck of an open ending. I have no idea what Cynthia Hand has planned for future books, but I think we'll see a lot more love triangle drama and some nasty angels on the scene. I'm so glad I read this book, and I think yu would be too. It's a must-read for fans of the paranormal - whether it be angels, vampires or werewolves - and I would highly recommend it to anyone looking for something a little different. Roll on book two!