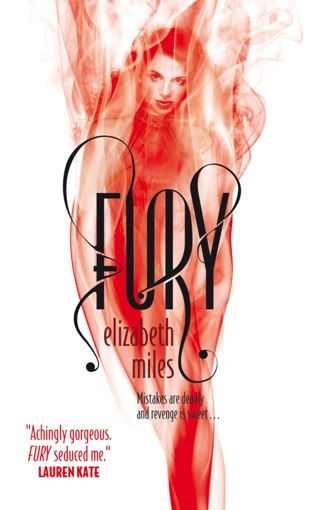 US // UK
Okay guys, how cool is the UK cover for
Fury
?! I love the US cover too - I really do, I think it's awesome and feisty - but the UK one is so fresh and unusual. In fact, the only other cover it reminds me of is the
UK jacket for the new James Bond novel
,
Carte Blanche
, and even then it's not *that* similar. Do you see what I mean, or am I just talking rubbish? Anyway, back to
Fury
...
So, the US cover. I love the model's hair. It pretty much rocks, and it's clever how it merges with the fire. Very pretty title font too. The tagline, 'Sometimes sorry isn't enough' is cool too, but I prefer 'Mistakes are deadly and revenge is sweet' from the UK one. I'm tempted to buy this edition for the shiny cover, but I'm slightly more in awe of the UK one, so I'll be having that one instead.
I'll admit I'm not the biggest fan of the cover model used on the UK cover, but she looks a lot better than she originally did (her neck was longer to begin with). What I love about this one is the ridiculously clever design. I know it might not look like nothing out of the ordinary, but I honestly think it is. So many paranormal books these days are black and feature a mopey teenager with her head down and looking like she'd rather be anywhere than on that book cover. Simon & Schuster have done something different here and, while I'll admit I'm biased because I LOVE THEM, I would appreciate this cover no matter which publisher/designer had come up with it. It's a breath of fresh air, and I think it could pave the way for new, cleaner paranormal YA covers. Ace title font too. Swirls = yippee! Both covers win when it comes to that.
I think I've rambled enough now. What do YOU think?