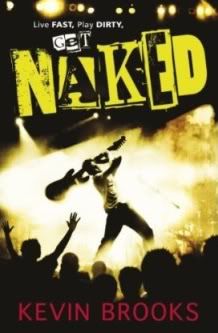 Waiting on Wednesday idea from Jill at Breaking the Spine.
-----
Naked
by Kevin Brooks
* Published by: Puffin (UK)
* Format: Paperback (UK)
* Release Date:
October 6th, 2011 (UK)
* On Amazon:

here




Summary from Amazon.co.uk:



London, 1976: a summer of chaos, punk, love . . . and the boy they called Billy the Kid. It was the summer of so many things. Heat and violence, love and hate, heaven and hell. It was the time I met William Bonney – the boy from Belfast known as Billy the Kid. I've kept William's secrets for a long time, but now things have changed and I have to tell the truth. But I can't begin until I've told you about Curtis Ray. Hip, cool, rebellious Curtis Ray. Without Curtis, there wouldn't be a story to tell. It's the story of our band, of life and death . . . and everything in between.




A new Kevin Brooks book! Yeeeeessss! I love this guy. If you haven't yet read

Black Rabbit Summer

or

Killing God

, where have you been?! Those two are my favourite Brooks books, and I have it on good authority (Yes, Sarah, I'm looking at you!) that

Naked

is just as good. I think it sounds brilliant: everything from the 70s setting to the inclusion of music is making me very excited to read it. Oh, and doesn't that cover just scream Sex Pistols?! Rock on.