Amy & Roger's Epic Detour
is one of my favourite books. It combines road trips and music, and has a great summer feel to it. It's officially published here in the UK tomorrow, and to celebrate there's a fun blog tour going on for this whole week.
The Bookette
is the next stop, and you can find the full schedule
here
.
Anyway, here's the lady of the hour, Morgan Matson, to tell you more about the music from
Amy & Roger's Epic Detour
!
~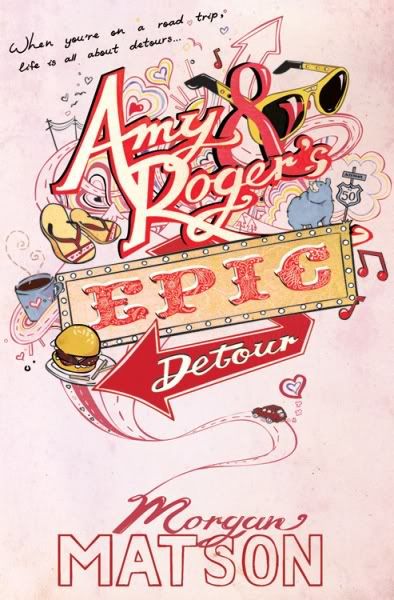 The Music of Amy & Roger

by Morgan Matson


I love music and I love to travel. And when I started driving, I found out how much better both these things became when they were combined. I really feel that one of the most important parts of a road trip is having really good music to accompany the journey. In the book, the character of Roger embodies this philosophy – that the music on a roadtrip is paramount (followed closely by snacks). The roadtrip mix is its own thing – you need songs that will keep your energy up and get you through long stretches of driving, but won't be overwhelming, so that you can still have conversations, or just notice the scenery around you.

I drove across the country to do research for this trip, and made new mixes for the next day's journey whenever I stopped, trying to find songs in my music library that would reference where I was. This wasn't always possible – it turns out that there are a lot of songs about California, and far fewer about the state of Arkansas.

So when I was writing the book, the music that the characters would be listening to was a really important part of the story. It was also a lot of fun to give these characters two separate musical identities – Amy likes musical theater and Elvis and is a little intimidated by what she sees as a somewhat inaccessible world of much "cooler" music, whereas Roger embraces those bands, and has a slightly emo bent as well (especially when the story starts, and he's getting over a breakup). And as they drive, and get to know each other better, they start to begin to embrace each other's music as well.

So I wanted to make sure that we would see the playlists that Roger was making as they drove. I had so much fun making the book's playlists – I made them all in my own iTunes library first, so I could hear how the songs flowed together. I had to try and find a balance of songs that were great songs but also worked "on the page" – that is, when you saw the song title or artist, it connected thematically to what was going on in that chapter. For example, one of my favorite songs ever is the Stars song "Your Ex-Lover is Dead." But I couldn't quite get it on any of Roger's playlists, because the title just looked so jarring. (But it's a GREAT song, and really worth downloading!)

But since I love making mixes, and love making mixes for friends, the chance to put eleven mixes in the book was fantastic. I felt like I was getting to share some of my favorite songs and artists with readers, and have been so thrilled to see that people have been downloading the songs and making the mixes.

I tried to find a balance, in making the mixes, between some more classic artists (Rush, The Eagles, Led Zeppelin), more mainstream music (Owl City, The Killers, Jack Johnson, Vampire Weekend), and some more slightly obscure stuff (The Smithereens, Alright Alright).
My favorite playlist in the book is actually the first one – I'll sometimes listen to it as I drive in Calfornia. The tracklist is below – I hope you enjoy it!




SONG TITLE / ARTIST

Going To California ~ Led Zeppelin
Drive Away My Heart ~ Ida Maria
California In Popular Song ~ The Lucksmiths
I See You ~ Mika
Travel Song ~ Someone Still Loves You, Boris Yeltsin
Miss California ~ Jack's Mannequin
The General Specific ~ Band of Horses
I'm Moving Out ~ Billy Joel
Life In The Fast Lane ~ Eagles
Birds of a Feather ~ The Rosenbergs
Limelight ~ Rush
All My Stars Aligned ~ St. Vincent
Unhurried Hearts ~ Harlem Shakes
The Wild ~ Princeton
I Stand Corrected ~ Vampire Weekend
In California (Live) ~ Neko Case
Nobody Lost, Nobody Found ~ Cut Copy
Vanilla Twilight ~ Owl City
Adrift ~ Jack Johnson