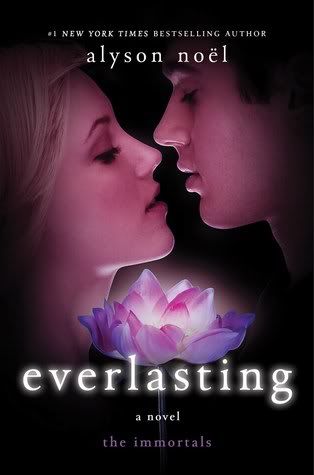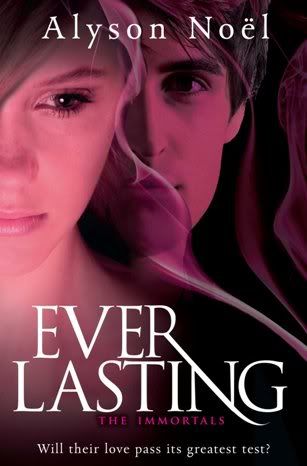 US // UK
I actually like both of these covers, but I like the UK one more. In real life, Ever's half of the cover comes away like a flap, revealing more of Damen underneath. It's a really nice way to end the series and is very eye-catching on the shelf! Even though these two covers are quite similar when it comes to the colours used, I do think the UK one has done it a bit better. It reminds me of different auras, which I hope was the intention! I also like the UK strapline 'Will their love pass its greatest test?' I suppose we'll have to read it to find out...
The girl used on the US cover reminds me of Dianna Agron (Quinn) from
Glee
- anyone else? Random comment there, but I thought it was her when I first saw the cover! I prefer the US title font and the smaller author name at the top, though I don't think the image of the flower works as well as it could have. It looks like it's just been photoshopped onto the middle of the cover, and I personally don't think it adds a lot to the whole image.
So the pretty UK cover wins this one for me. How about you guys? Which do you like best?
~

Thanks to the nice people at Macmillan, I have one (1) Immortals goodie bag to give away, plus one (1) copy of
Evermore
for the runner up. The first winner will receive: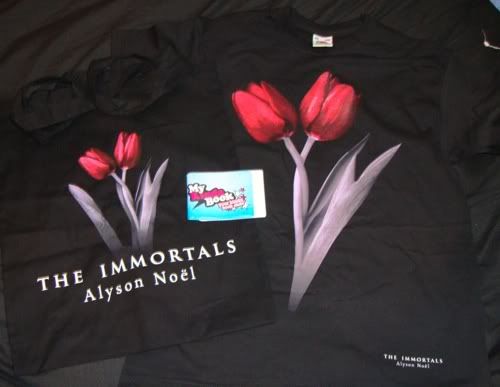 Immortals t-shirt (small size)
Immortals tote bag
My Kinda Book card wallet
Copy of

Evermore

by Alyson Noel

And the second winner will receive a copy of
Evermore
by Alyson Noel.
Rules & info:
Open to

UK residents only.



End date: July 20th, 2011.

One entry per person

.

You do NOT have to follow my blog to enter.

Prizes will be sent out by me!