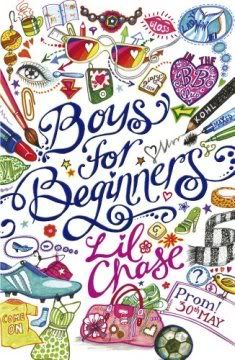 Publisher:
Quercus
Format:
Paperback
Released:
August 4th, 2011
Grade rating:
B+
Amazon summary:
Thirteen-year-old Gwynnie is just about to turn fourteen. While other girls in her year are all about boys and make-up, the closest she's got to a boy is in a tackle on the football field. But when the totally hot Charlie Notts starts at school, Gwynnie decides now might be the time to start being a girl. Gwynnie enlists the help of a gang of girls at school, headed by the super-confident Jenny. But is it really safe for Gwynnie to be let loose with lash curlers and strong eye-shadow? Has Jenny got a hidden agenda while giving Gwynnie her make-over? And will Charlie ever see her as more than a killer football player with skinny legs? When everything comes to a head at the school prom, Gwynnie will learn some truths about herself and her new found girly friends. Has she risked the firm friendships she has with boys for that first kiss?
Review:
I'd been in a bit of a reading slump before I read
Boys for Beginners
, but I'm happy to report that it brought me right out of it! It reminded me of Louise Rennison's hilarious Georgia Nicolson series which got me through my teen years, and I can see
Boys for Beginners
doing exactly the same for teenagers today.
I really identified with main character Gwynnie because, like her, I was always the tomboy in secondary school (and primary school, actually!). I was the one who would play football with the boys and who wouldn't have a clue about fashion or make-up. I must admit, nothing's really changed now! I like reading about different female YA characters, as not every single girl in the world is obsessed with how they look or dress. It's refreshing to see a different perspective when it comes to being a teenage girl, and Lil Chase does a great job of showing that it's okay to be on the outskirts of the cool kids. You know the type... they're like the rulers of the school who can make your life hell at the drop of a hat. I knew there was a reason I don't miss my school days. *shudder*
Aside from
Boys for Beginners
being very funny (which it is), realistic (cringe-worthingly so) and scarily relatable (was I really like that? Yes, yes I was...) it's also a great commentary on modern social ideals and what's deemed cool or acceptable. Teenagers these days face so many pressures, it's a wonder they manage to function at all. Between fitting in and looking right, there really isn't much room for anything else, and the media does nothing to help. Chase showcases Gwynnie's insecurities through humour and a change of direction, which ultimately leads Gwynnie to realise that you don't have to give up things you love in order to make new friends and be one of those cool kids. People should like you for who you are, and she sees that eventually. She has to go through a fair few embarrassments and learning curves first, but she gets there.
I really enjoyed this book; it's the prefer blend of light humour and serious life lessons. Fans of Louise Rennison, Liz Rettig and Carmen Reid will love every page, and will find a fab new author in the process. There's lots of boy tips too, though I wouldn't recommend paying attention to all of them - learn from Gwynnie's mistakes, just as she does. Oh, and don't wish your teen years away - looking back, they're actually quite fun!