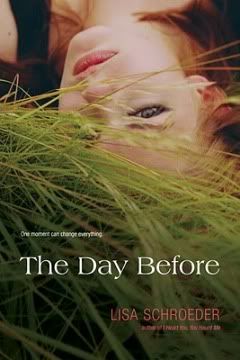 Publisher:
Simon Pulse
Format:
Hardcover
Released:
June 28th, 2011
Grade rating:
A
Amazon summary:
Amber's life is spinning out of control. All she wants is to turn up the volume on her iPod until all of the demands of family and friends fade away. So she sneaks off to the beach to spend a day by herself. Then Amber meets Cade. Their attraction is instant, and Amber can tell he's also looking for an escape. Together they decide to share a perfect day: no pasts, no fears, no regrets. The more time that Amber spends with Cade, the more she's drawn to him. And the more she's troubled by his darkness. Because Cade's not just living in the now—he's living each moment like it's his last.
Review:
I've been a Lisa Schroeder ever since I read
I Heart You, You Haunt Me
, her first YA book and my first foray into verse novels. I thought she could do no better than
Chasing Brooklyn
, but I was wrong -
The Day Before
is miles better and then some. If you go off the word count, I'm sure it's a fairly short book that makes for a quick read. But when you dig deeper and realise the severity of what Amber and Cade are going through, you instantly see that this is by no means an easy book to read. It's thought-provoking and shocking, and I loved every word. A re-read is definitely on my agenda for the near future!
When reading verse novels, I sometimes find myself wishing there could be more characterisation. Fewer words mean the author has to do a lot more in a shorter time, and it doesn't always seem to work. Lisa Schroeder has no such problem with
The Day Before
- I feel like I know each character as well as I would in a regular novel, which to me is a sign of verse greatness.
Amber and Cade meet by chance when both of them are observing sealife by themselves. They strike up a conversation, have an instant connection and help each other in more ways than I thought possible in just one day. Both of them want just one day away from everything before their lives change forever, and each finds what they're looking for in each other. The 24-hour time period depicted in
The Day Before
is one of utmost importance to Amber and Cade, but you need to read the book to find out why. I was shocked when everything unraveled and fell into place, and Schroeder's no-holds-barred, heartbreaking but hopeful storytelling is just one of the reasons why this is now my favourite book of hers.
As with many verse novels I read, I wish they was longer. I'm wishing the same thing here; not because I want more development or information, but because I want to spend more time with Amber and Cade. I want to know everything about their lives and what happens next, which to me is the sign of a brilliant book. To make me care that much about two fictional people is a great skill to have, and Schroeder has that and a lot more.
The Day Before
surprised me, in a good way. I was expecting something good, but I wasn't expecting this. I really recommend you read this one; in my opinion it's in the same league as the best Ellen Hopkins books.