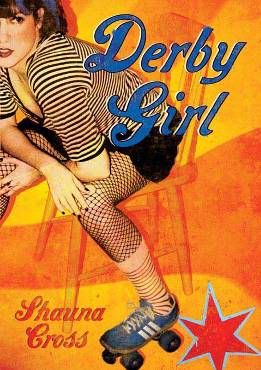 Publisher:
Henry Holt and Co.
Format:
Hardcover
Released:
September 4th, 2007
Grade rating:
B+
Amazon summary:
Meet Bliss Cavendar, a blue haired, indie-rock loving misfit stuck in the tiny town of Bodeen, Texas. Her pageant-addicted mother expects her to compete for the coveted Miss Blue Bonnet crown, but Bliss would rather feast on roaches than be subjected to such rhinestone tyranny. Bliss' escape? Take up Roller Derby. When she discovers a league in nearby Austin, Bliss embarks on an epic journey full of hilarious tattooed girls, delicious boys in bands, and a few not-so-awesome realities even the most bad-assed derby chick has to learn.
Review:
I bought
Derby Girl
a couple of years ago, as soon as I heard it was being made into a film, titled
Whip It
. Roller derby plus snarky, kick-ass girls is a recipe for awesome, right? Now that I've read the book (finally!) I'm surprised at how faithful the movie was - it's almost exactly the same, and they got the casting spot-on!
For those who haven't seen the film or read the book (both of which I would recommend),
Derby Girl
is about 16-year-old Bliss Cavendar living in Bodeen, Texas. Her mum is into the pageant circuit (hence the cringeworthy name), but Bliss has next to no interest in make-up and dresses. She's music-obsessed, witty, and works with best friend Pash at barbecue restaurant Oink Joint. The job really is bad as the name suggests, but it's money and a way for Bliss to do what she wants. I thought it was great that she'd take a job she hated just so she could support herself. I like that quality in YA characters and I'd like to see more.
Derby Girl
really kicks off when Bliss discovers the local roller derby teams, tries out and ends up playing, kicking ass and with the nickname Babe Ruthless. Nothing goes smoothly, of course, with Bliss fighting her parents tooth and nail to continue with her newfound passion. Her mum disapproves, leading Bliss to lie and sneak around. I'm sure we've all done that during our teenage years, but Bliss does it with a certain style and I-don't-care attitude. If she wants something she doesn't let anything get in her way, which I thought was a brilliant character trait.
There's some romance in
Derby Girl
though it isn't a central focus of the story. It's more of a sub-plot, albeit an effective one. Bliss learns a valuable lesson about boys, and she also learns to hold on to her favourite shirts. Sometimes boys ain't worth losing your best clothing over!
I really liked
Derby Girl
, though I know I would have liked it more had I read it before I saw the film. There were no surprises for me the whole way through the book which slightly hampered my enjoyment. So, my advice to you is to read the book and then see the movie. I think you'll appreciate both a lot more, which is why I'm going to rewatch
Whip It
as soon as possible. Ellen Page FTW!