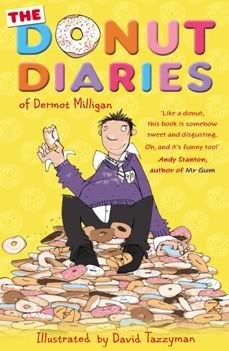 Publisher:
Corgi
Format:
Paperback
Released:
August 4th, 2011
Grade rating:
B+
Amazon summary:
Dermot Milligan's got problems. He's overweight and hooked on donuts. He has a pushy, over-achieving mother, and a father who spends all his time hiding in the loo, and now, he's being sent to a nutritionist, Doctor Morlock, who looks like a Dementor from Harry Potter and the Deathly Hallows. This diary is Doc Morlock's idea. Not only does Dermot have to write down how many donuts he eats, but also - and this is the really rubbish part - he has to talk about HIS FEELINGS!
Review:
I had never heard of this book until a friend suggested I read it, and I'm glad she did. It's a great addition to boy's fiction and diary-style books, and is basically the male counterpart of
The Dork Diaries
. It's written with the kind of humour you'd expect from 12-year-old boys, which is the kind that makes me laugh my head off. It's a quick but fun read and I'm glad there's a sequel planned - sometimes I just need to read a really light-hearted book!
The Donut Diaries
is about Dermot Milligan (he also appears to be the author, who is actually a well-known children's writer) who, as you might have guessed, has an addiction to donuts. His mum threatens him with Fatso Camp, and sends him to a nutritionist where he's forces to keep track of how many donuts he eats. On top of all that he's also starting secondary school, where he needs to make friends and dodge FHK (floppy-haired kid) the school bully. Phew!
Dermot's voice is blunt and hilarious, exactly what you'd expect from a boy of his age. He's bigger than other boys in his class, yes, but he never let's it get him down and even goes so far as to try and make fun of himself. He makes new friends as strange as him, cuts down on donuts and stands up to the FHK, all while realising that secondary school isn't as bad as he thought it would be.
The Donut Diaries
is the perfect book for readers aged 9+, especially those who will soon be starting big school themselves. Dermot is a great character with lots of personality, and I think a lot of children will relate to him. At the very least, you'll come away from this book craving many different types of donuts. I know I did!