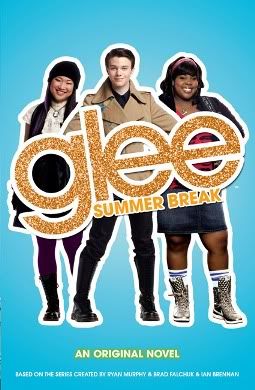 Publisher:
Headline
Format:
Paperback
Released:
July 7th, 2011
Grade rating:
B/B+
Amazon summary:


Mr. Schuester doesn't want the Glee club to lose its momentum over summer break, so he's talked Rachel, Finn and the crew into running a singing workshop for local kids.





Review:



Like thousands of other people, I love

Glee

. Love it. And like everyone else, I'm pretty lost now that Season 2 has wrapped. My Monday nights just aren't the same! Lucky for me there's a new original novel just been published, and it's a pretty good one. I didn't like it as much as

Glee: The Beginning

, but I still enjoyed it. I am a proud Gleek, after all!

With

Summer Break

, my main problem was that a lot of the show continuity didn't match up. I know it's because the author has to write the books so far in advance, but it's still frustrating to know things the author unfortunately didn't at the time. I'm a stickler for continuity when it comes to tie-in novels, but I can understand why it wasn't possible in this instance.

Once again, Sophia Lowell managed to write the character's dialogue as if it was lifted from one of the episodes. Rachel was irritating, Kurt was sarcastic and Santana was still her own favourite person. I can't fault the characterisation at all, and that was definitely Lowell's best achievement. She was true to the characters and their differing personalities, and that's all I could really ask for.

The plot of this book went in a completely different direction than I thought it would, which was slightly confusing after reading the jacket summary. I won't spoil anything and say why, but it was a bit of a surprise. It turned out to be a good surprise, though, and it was fun to see things from a new perspective. I hope more

Glee

books are on the way because I really enjoy them. They're the perfect solution to filling the void between seasons, and I wouldn't hesitate to recommend them to other Gleeks!