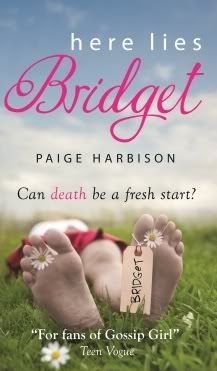 Publisher:
Mira Ink
Format:
Paperback
Released:
June 17th, 2011
Grade rating:
B
Amazon summary:
Can death be a fresh start? They say that before you die your life flashes before your eyes. You think it's going to be the good stuff: every kiss, every party. Don't count on it. I was Bridget Duke, the uncontested ruler of the school. If keeping the wannabes in their place meant being a mean girl, then so be it! I never thought there'd be a price to pay. Until the accident. Now, trapped between life and death, I'm seeing my world in a new light: through the eyes of five people whose existence I've made hell. And I've got one chance to make things right. If I don't, I may never wake up again...
Review:
When I first started reading
Here Lies Bridget
, I was immediately reminded of of Lauren Oliver's B
efore I Fall
. The premise is similar, as is the execution and general tone of the story. It wasn't until around halfway through the book that I thought it really came into its own and finally hooked me. The book cover states 'For fans of
Gossip Girl
', and I'd say that's an accurate assumption.
Here Lies Bridget
is full of drama, school life and mean girls, which is perfect for the YA market.
I genuinely disliked Bridget for the majority of the novel. It wasn't until the last chapter that I really felt anything for her, which was a bit of a shame. I thought I'd have warmed to her earlier, but I didn't. Her personality is everything I hate, and the way she treated her friends kept her firmly on my black list. She did redeem herself in some ways, but in others I felt that she'd always remain the same old Bridget.
The moral of the story is a good one, and I like how Harbison made sure to get her point across. Every action and remark has a consequence, whether you mean for them to or not. That was strongly highlighted here, and for me it's probably what has stayed with me most. I also like how Harbison realistically portrayed high school worries and problems without sugarcoating just how difficult it can be.
Here Lies Bridget
is a promising debut novel that, at least for me, lacked a likeable main character. I'm really looking forward to seeing what this author writes next, as I think she's definitely a new author to keep an eye on. Her knack of writing young adult life is one that will undoubtedly appeal to a lot of readers, and I'm sure her debut novel would also make a great movie - we need a few good teen films!
Quick Q&A with Paige Harbison

What inspired you to write

Here Lies Bridget

?
She was inspired by the worst of me, the worst of my friends, and the worst of my enemies. The deepest and most insecure parts of all those people also inspired the character. I really liked the idea of her having to be humiliated by having to see herself and hear what people actually think of her.
Were your own (quite recent!) high school years anything like Bridget's?
Nope, not at all. I was a floater—I hung out with everyone. Popularity was not a consideration of mine. I was well-known, since I mingled so much. But I never worried about it.
If you had the opportunity to change one thing about your life, what would you change and why?
I'd go back in time and stay a little truer to myself than I was in high school. Though I wasn't obsessed with popularity, I did get caught up in things sometimes. If it was me now I wouldn't let small things bother me, I wouldn't let a girl be a jerk to me and get away with it, and I would have dumped boyfriends the second I was through with them instead of letting it hang on.
Did you have any involvement in your lovely cover? What are your thoughts?
I told them what mood I liked and wanted. I wanted something kind of reminiscent of the
Dexter
,
Six Feet Under
, and
True Blood
posters. Playful, but dark. I love it!
What can we expect from your next book?
An even bigger bit**. Becca Normandy is a lot worse than Bridget. It's a modern take on Daphne du Maurier's (and Alfred Hitchcock's)
Rebecca
. I think my writing has grown since
Here Lies Bridget
, as is to be expected since it was my debut.