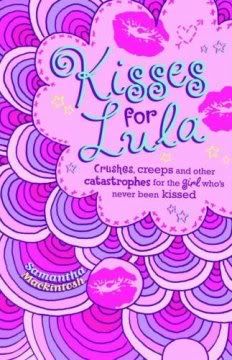 Publisher:
Egmont
Format:
Paperback
Released:
June 4th, 2010
Grade rating:
B+
Amazon summary:
Lula Bird is gorgeous, funny and dreading her birthday because you can't turn 16 if you've never been kissed...So why does every boy in Hambledon run a mile the second she bats her eyelids? The fact is, they fear for their lives. Rumour has it Lula's been jinxed! And it's not as if that's her only problem: Lula thinks she has a stalker, her dad keeps sneaking out at night with a lady's handbag, and a mysterious theft is threatening to bring the town to its knees...
Review:
I've always been a fan of diary-style books, ever since I first read A
ngus, Thongs and Full-Frontal Snogging
about 10 years ago. Even though I'm no longer a teenage girl (and I'm quite glad about that), I still relate to them in these books I read. I remember what it was like to have a crush who didn't notice you, or embarrassing moments you wish never happened (I once fell through a broken table. Ouch!).
Kisses for Lula
has all these things and more, and actually turned out to be a more serious read than I thought it would be.
Mackintosh writes about the trials and tribulations of being a teenager, but she also includes adult themes where Lula's parents are concerned - I don't want to spoil anything, so i wont say exactly what. I thought it was all balanced well, though not necessarily a required element of Lula's story. I sometimes found it to be like a dark cloud descending on a sunny day, as it did occasionally overpower Lula's happy-go-lucky narration.
Lula herself was hilarious. She was completely mad, of course, but I loved her for it. She was always hatching plans and getting herself into cringeworthy situations which had me chuckling away to myself. Her sister Pen and friend Arnold were also brilliant, and her core group of girlfriends were like her equivalent of the Ace Gang.
Kisses for Lula
is funny, heartwarming and so much more than the bright pink cover suggests. I thoroughly enjoyed it, and I can't wait to read the next book. Lula is a great character to compete for the Funniest Fictional Teen award, along with the likes of Sue Limb's Jess Jordan and Carmen Reid's St Jude's girls. Honestly, contemporary British fiction has never been so fun!