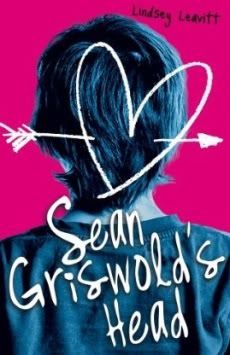 Publisher:
Scholastic
Format:
Paperback
Released:
July 7th, 2011
Grade rating:
B/B+
Amazon summary:
After discovering her father has Multiple Sclerosis, Payton Gritas'slife crumbles. Aiming to save Payton from denial the school counselorgets Payton to write Focus Exercises. But all Payton can see is the over-sized head of the boy who sits in front of her: Sean Griswold. Payton's stared at the back of Sean Griswold's head every day of her high school life. So why does it suddenly seem so, um, gorgeous?!
Review:
I was pleasantly surprised by
Sean Griswold's Head
, though I must admit that I didn't like it as much as other bloggers seemed to. I think my expectations may have been too high, and it was also different to what I thought it would be. Still, it's well worth a read, and it made me laugh out loud in places. That's always a good thing in my book!
Sean Griswold's Head
was a lot more serious than I initially thought it would be. Not that that's a bad thing, it just wasn't what I was expecting. It focuses heavily on Payton's dad's MS, which isn't an illness I knew an awful lot about before reading this book. I now feel more educated about it, but whether that's good for my hypochondria, I'm not sure (ha!). It sounds like a truly terrible thing to live with, and Leavitt does a fantastic job of explaining it to people unfamiliar with the illness.
Although this book is serious, it's also very funny, thanks to Peyton's sarcasm and I-don't-care-attitude. After seeing a therapist she chooses Sean Griswold's head as her focus, and what follows is quite an unconventional relationship. I was drawn in and believed in Payton and Sean as a couple almost instantly, but the fact that they never showed any affection bothered me. I know this book is written for younger YA readers, but it took some of the realism away for me. I'm sure teenagers can't keep their hands off each other usually, so why the veto on any physical contact? I was a bit puzzled by that.
Sean Griswold's Head
is a great summer read, and it's one that is layered, clever and witty. Payton will make you laugh, her best friend Jac will make you want to act just like her and Sean will make you swoon. It has all the ingredients to make a perfect contemporary romantic novel, but it also has that older, serious side to it. I'm looking forward to whatever Leavitt comes up with next - she's definitely an author to look out for!